Dawn of Babylon was an event in SMITE to celebrate the introduction of Tiamat. The story for this event takes place right after the conclusion of Odyssey: Reckoning's story. It began on January 26, 2021 and ended on April 20, 2021.
Description
[
]
Welcome to the Dawn of Babylon Event!
[
]
Every 2 weeks we will release an event bundle with 4 exclusive items! On initial release the bundles will cost 900
Gems and once the next bundle releases the previous bundle will become 1200
Gems. Purchase 2 bundles to unlock the exclusive Regal Warrior Erlang Shen Skin, purchase 4 bundles to unlock the Unlimited Battleship Heaven Nu Wa Skin.
Dawn of Babylon has a "Buy All" option which provides a discount of 62% for a total of 3600
Gems.
Individually made purchases will discount the "Buy All" option cost by the value of the previously purchased bundle equal to 900
Gems per previously purchased bundle.
(Purchasing 1 bundle for 900
Gems will result in the remaining three bundles costing 2700
Gems instead of 3600
Gems)
Quests
[
]
Questing is free for everyone!
3 quests will be released every 2 weeks. These quests are linear so complete the first quest in order to unlock the next quest! Each quest will unlock different rewards! Complete all quests to reveal the hidden image!
Exclusive Bonus Rewards
[
]
Dawn of Babylon Cosmetic Items
[
]
These are the items that are available during the event. Each bundle costs 1200
Gems to unlock.
Unlocks
[
]
Experi-Mental

Icon
Type
Release Date
Description
God Skin
January 26, 2021
An exclusive skin for Baba Yaga. It has custom animations and ability effects, and custom voicelines.
Discoveries
Story

Video

EmbedVideo is missing a required parameter.
Walking Blight

Icon
Type
Release Date
Description
God Skin
January 26, 2021
An exclusive skin for Ymir. It has custom animations and ability effects, and custom voicelines.
Discoveries
Story

Video

EmbedVideo is missing a required parameter.
Experi-Mental

Icon
Type
Release Date
Description
Fountain Skin
January 26, 2021
An exclusive Fountain Skin.
Discoveries
Story

Video

EmbedVideo is missing a required parameter.
Science Lab

Icon
Type
Release Date
Description
Level Up
January 26, 2021
An exclusive Level-Up Skin.
Discoveries
Story

Video

EmbedVideo is missing a required parameter.
Home Run

Icon
Type
Release Date
Description
God Skin
February 9, 2021
An exclusive skin for Heimdallr. It has custom animations and ability effects, and custom voicelines.
Discoveries
Story

Video

EmbedVideo is missing a required parameter.
Book of Nightmares

Icon
Type
Release Date
Description
God Skin
February 9, 2021
An exclusive skin for Thoth. It has custom animations and ability effects, and custom voicelines.
Discoveries
Story

Video

EmbedVideo is missing a required parameter.
Home Run

Icon
Type
Release Date
Description
Announcer Pack
February 9, 2021
An exclusive Announcer Pack.
Discoveries
Story

Video

EmbedVideo is missing a required parameter.
Book of Nightmares

Icon
Type
Release Date
Description
Death Mark
February 9, 2021
An exclusive Death Mark.
Discoveries
Story

Video

EmbedVideo is missing a required parameter.
Arachnoid

Icon
Type
Release Date
Description
God Skin
February 23, 2021
An exclusive skin for Arachne. It has custom animations and ability effects, and custom voicelines.
Discoveries
Story

Video

EmbedVideo is missing a required parameter.
Wildstyle

Icon
Type
Release Date
Description
God Skin
February 23, 2021
An exclusive skin for Mulan. It has custom animations and ability effects, and custom voicelines.
Discoveries
Story

Video

EmbedVideo is missing a required parameter.
Babylon

Icon
Type
Release Date
Description
Pedestal
February 23, 2021
An exclusive Pedestal.
Discoveries
Story

Video

EmbedVideo is missing a required parameter.
Wildstyle

Icon
Type
Release Date
Description
Jump Skin
February 23, 2021
An exclusive Jump Stamp.
Discoveries
Story

Video

EmbedVideo is missing a required parameter.
Mighty Mage

Icon
Type
Release Date
Description
God Skin
March 9, 2021
An exclusive skin for Cupid. It has custom animations and ability effects, and custom voicelines.
Discoveries
Story

Video

EmbedVideo is missing a required parameter.
Senpai Slayer

Icon
Type
Release Date
Description
God Skin
March 9, 2021
An exclusive skin for Serqet. It has custom animations and ability effects, and custom voicelines.
Discoveries
Story

Video

EmbedVideo is missing a required parameter.
Dawn of Babylon

Icon
Type
Release Date
Description
Music Theme
March 9, 2021
An exclusive Music Theme.
Discoveries
Story

Video

EmbedVideo is missing a required parameter.
Mighty Mage

Icon
Type
Release Date
Description
Global Emote
March 9, 2021
An exclusive Global Emote.
Discoveries
Story

Video

EmbedVideo is missing a required parameter.
Collection Rewards
[
]
These items are bonus rewards for purchasing a certain amount of bundles in the event.
Regal Warrior

Icon
Type
Release Date
Description
God Skin
January 26, 2021
An Exclusive skin for Erlang Shen. Granted for obtaining 2 bundles. It has custom voicelines.
Discoveries
Story

Video

EmbedVideo is missing a required parameter.
Battleship Heaven

Icon
Type
Release Date
Description
God Skin
January 26, 2021
An Unlimited skin for Nu Wa. It has custom animations and ability effects, and custom voicelines.
Discoveries
Story

Video

EmbedVideo is missing a required parameter.
List of quests
[
]
Damage Dealer!

Let the Games Begin!

Money Money Money!

Requirement

Earn 40,000 Gold.

Reward

"Babylon" Loading Frame
Fun Times!

Skilled Brawler

In it to Win it!

Requirement

Get 1 First Win of the Day.

Reward

"Divine Master" Title
Let the Games Begin!

Damage Dealer!

Gold On My Mind!

Requirement

Earn 40,000 Gold.

Reward

"Mighty Mage" Avatar
In it to Win it!

Show Off!

Fun Times!

Requirement

Play 2 Games.

Reward

"Dawn of Babylon" Loading Screen
Hidden Image
[
]
Each section of the hidden image is revealed after completing all three of the corresponding chapter's quests.
Gallery
[
]
Videos
[
]
Lore
[
]
Chaos Rising
[
]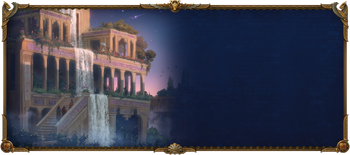 Ancient stones shifted – parted – crumbled. Set stepped through the newly made gap, into the silent expanse beyond. He sighed in satisfaction. In the months since the corruption of the World Tree, Set had led his allies on a hunt for a weapon mighty enough to defeat the Great Dreamer. Now, at long last, it was within their grasp. "This is it," he said, turning to his companions. "We have found it. On the shores of the Erythraean Sea, as I promised."
"And just in time," Loki said, joining him. He looked around, eyes narrowed. "I expected something more grand, given what this place used to be."
"Even the tallest mountain crumbles," Thanatos intoned as he followed them in, accompanied by Discordia and Bellona. "And the grandest temples all come to ruin. Even one as grand as this."
"So long as it holds the key to victory, I don't care what state it's in," Bellona growled, shoving the Hand of Death aside. "Where is it, Set? Where is this weapon you promised me?"
"Close at hand. Discordia – light, please."
Discordia flung up her hands, and writhing lights spattered across the nearby stones, illuminating the space in its entirety. It was a large, vaulted chamber though it had long since succumbed to tectonic pressures. Fallen pillars and broken statues crowded together in the light. At the centre of the chamber was an immense pool of dark, stagnant water.
Discordia smirked. "This place is uglier than I imagined. How long has it been since anyone has worshipped here?"
"Longer than mortal memory," Set said, as he started towards the great pool. "It is – was – the first temple, built by men. Carved into the place where land, sky and sea met. When the world shifted millennia ago, it was buried and forgotten by all but a few."
"And you think it holds the answer to our current difficulties," Loki said, impatiently as he hurried after Set. "Yes, yes, we all know why we're here, Usurper. To fight chaos, one must use chaos. The question is…will she even hear us?" He gestured to the pool. "And will that thing even work for us? You said we needed a celestial light to pierce the darkness of the abyss – that's why we needed Zeus and his lightning…"
Set rounded on him. "Luckily for us all, I made allowances for your failure to convince him of the rightness of our cause." He leaned close to Loki, causing the other god to step back. "There is more than one god who wields such power."
Bellona interposed her sword, breaking the two gods apart. "Then you'd best tell us your plan, eh?" she said, studying Set with a cold gaze. "Before I decide to take my chances and face Cthulhu on my own."
"Because that went so well last time," Discordia murmured. Bellona ignored her.
"The plan, Usurper," she repeated.
Set gestured to the pool. "These waters are a doorway to the depths of the great sea that feeds the World Tree…"
"The Ginnungagap," Loki said, softly. Set nodded.
"Those who built this place knew it as the Abyss – the primordial void, from whence all of existence sprang. And it is in this void that our deliverer now sleeps, as she has slept for millennia. She alone possesses the might to bind Cthulhu once more. Without her intercession, the madness of the Great Dreamer will swallow us all."
"And what is this deliverer of yours called?" Bellona demanded.
Set was about to answer when a sudden rumble shook the temple to its crumbling foundations. He and the others turned as a searing light erupted from the aperture they'd made in the rock. As the light faded, a winged form hurtled into the temple.
Horus, son of Osiris, arrowed towards Set, spear extended before him. "At last, Usurper – you are mine!"
***
The stars were screaming. Olorun tried to shut out their voices, but it was impossible. He was one with them, with the very fabric of the universe. What the universe felt, so too did Olorun – and right now, all he felt was pain. The pain of dying stars…the pain of a universe unravelling beneath the weight of the Great Dreamer's madness.
It was that pain that had been gnawing at him ever since he'd descended to this plane, muddying his thoughts and making his emotions brittle. He saw it clearly for the first time since he had claimed the throne of Olympus. Cthulhu was always going to rise. If Persephone had not precipitated it, it would have been another – Set, maybe, or even Tsukuyomi.
What had been set in motion so long ago, with the war of the pantheons and all that followed, could not have been stopped. He'd hoped to repair the damage Hades, Jormungandr and others had done to the skein of reality, but the cracks in existence ran too deep for anyone to fix. They would only widen, and reality itself would splinter.
But he could save something of the world; enough, perhaps, to start anew. That was the hope he held to his breast as Cthulhu's monstrous form squeezed itself through the walls of Olympus with protean malice. Zeus and the others fought, trying to drive their common foe back, but their power was as nothing to the creature.
He saw Zeus hurl lightning bolt after lightning bolt full into the writhing features of Cthulhu and though the beast flinched, it did not retreat. He saw Athena, Anhur and Heimdallr attack with spear and axe, saw Argus hurl a broken pillar, saw Nike and Rama strike from on high and Baron Samedi toss two skulls into the air, their sockets burning with energy. Gods from half a dozen pantheons struck as one.
Olorun watched it all, but did not join them. Could not. Not without ruining their only chance at victory. Hera was speaking to him, shouting at him, but he could not answer her – could not explain to her this last, desperate gamble. His mind was elsewhere. The stars were falling, but they could still be of aid to him. He drew on their dwindling power and added it to his own. He could feel his strength returning, but slowly. If only the others could hold out for a bit longer, he might be able to save them all.
He reached up, grasping for more of the light, drawing the embers of a dying universe into himself. The death of each star tore at him, but he pressed on. Around him, the battle for Olympus continued. He saw the broken form of Argus slam through a pillar and vanish beneath falling rubble. He saw the crumpled, smouldering forms of Anhur and Nike laying forgotten on the floor. He saw Rama topple, clutching at his face. Saw Heimdallr stagger away, tearing at his own eyes, his ears bleeding. Saw Zeus and Hera standing side by side, united at last, hurling their power against the looming form of the Great Dreamer.
The last stars fell, and Olorun snatched at their flickering essences desperately. He could feel his form rippling with cosmic energies. He closed his eyes, readying himself for what was to come – a task only he could accomplish. It was why he was here. He had come to fix what was broken, and what was Cthulhu but the rot at the core of everything?
There was only one way to defeat such a pestilence – a cleansing fire, great enough to rekindle the stars and the sun. The world would end, but worlds had ended before. He would ensure that what came after was free of Cthulhu's taint.
When he opened his eyes, all was silent. The battle was done. Olympus burned. The gods lay scattered like children's toys. Even the mightiest of them had fallen before Cthulhu, though not without a fight. The creature's flesh bubbled and sloughed from its form as it entered the main hall of Olympus, shoving aside pillars in its heedless advance.
As Olorun watched, its wounds repaired themselves. Its gaze fell upon him and its tendrils quivered with alien mirth. Something that might have been its voice thundered through him, but he ignored it, even as he ignored the uncertainty that gnawed at him. There was only one path to victory, one way to fix everything…if he but had the strength.
To save everything, he must first destroy it.
"Now we come to it," Olorun rumbled. The light flared within him, and his form began to change – stretching, swelling, rising, until he was a match for the monstrosity before him. Olympus fell away as Olorun rose higher and higher, stretching his hands towards the broken sky. "This moment is why I left the stars – this moment, and no other. I will pull down the heavens upon you, and end your madness once and for all."
At his boast, Cthulhu laughed again – a thunderous keening like no sound Olorun had ever heard. The beast lurched towards him, wings spread and eyes burning with madness. Olorun braced himself, and met his foe, god to god.
***
Set twisted away from Horus' charge, narrowly avoiding the hawk-god's spear. "As punctual as ever, boy," he growled as he sprang onto a broken pillar. For weeks, Horus and Ra had dogged his trail. Set had done his best to avoid meeting his nephew in battle until the proper moment, but it had been difficult. Now, at last, he could dispose of the boy. But that was a pleasure best saved for afterwards. He had more important matters to attend to.
Horus banked, great wings stirring the musty air of the temple. Thanatos and Discordia swept to intercept him, as he'd known they would, and Set turned to face the second of their pursuers – for where Horus was, Ra would not be far behind. It was Ra whose power Set required. Ra, who bore the celestial light – the very thing needed to pierce the darkness of the abyss. To awaken she who slept there.
Ra emerged from the aperture, a corona of flame crackling about him. He gestured and coruscating flames roared up around Bellona and the others, driving them back. The Sun God did not speak as he entered the temple, but his eyes blazed with an all-consuming wrath. It seemed Ra had become infected by the same battle-madness that gripped Horus.
Good. That would make things easier.
Set glanced at Bellona, as she braced herself against the flames. "You and Loki manoeuvre Ra as close to the pool as possible. I will do the rest."
Bellona nodded briskly and lunged through the flames. As Ra readied himself to meet her, Loki appeared behind him, daggers raised. The Sun God whirled at the last moment and Loki was forced to retreat as a wash of flame nearly engulfed him. Bellona closed in, and Ra turned to face her. Set prowled through the shadows, waiting for his moment.
Uneasiness gripped him. Once done, what he planned could not be undone. But it was the only way to defeat the Great Dreamer. He knew this, even as he had known that Osiris' throne rightfully belonged to him. There was only one path forward, and only he had the foresight to take it.
Set heard a cry and turned to see Discordia crash against the wall of the temple. Horus roared like a berserker and drove Thanatos back, nearly knocking him from the air. Set turned away, trusting that the Hand of Death could handle his nephew. Bellona gave a shout and Set saw that between them, his allies had finally managed to lead Ra towards the pool. The Sun God hovered above the water within a pillar of light.
It was time.
He stoked the fires of his rage – of his hatred for the old order, the order set in place by Ra and those like him – and sprang towards his prey Distracted by Loki, Ra never saw him coming. Set plunged into the light, biting back a scream as it seared his flesh. His weapon connected, the blade plunging into Ra's chest and emerging from his back. Ra screamed in pain and the light redoubled in brilliance. It washed across the walls and floor, erasing the shadows and blinding the combatants.
Ra fell. Set leapt away at the last moment and landed at the edge of the pool even as Ra, still wreathed in flames, struck the black waters and vanished in a gout of steam. Set heard Horus cry out somewhere behind him, but he paid his nephew no mind.
Instead, he peered down into the pool, watching as the fiery shape of Ra dwindled in the darkness, falling away across a vast, impossible distance. In the flickering light, Set saw a suggestion of movement. A sinuous, serpentine motion. As of something stirring in the deep.
Set stumbled back as the shape rose, gaining speed with every passing moment. He could hear the thrum of great wings, the rattle of scales. The sound grew deafening, and the temple began to shudder. Blocks of stone fell and the floor split.
"We did it," Set shouted, as the temple collapsed around him. "Tiamat wakes!"
*
Tiamat woke.
She looked down upon the world. Her world. Though others might claim it as theirs, might boast of how they had built it from the bodies of giants or shaped it from the light of stars, only she knew the truth. The world had been made from her blood and bone and it responded to her as a child might, to the voice of a parent.
Her gaze sharpened, fixed on two forms, locked in battle. One, a god of the heavens. The other, a monster of the lowest abysses. The world shuddered beneath them as they grappled, not just physically but spiritually as well. Order and Chaos. Each wanted the world to bow to their whim, never realising that without one the other could not be. The old argument, never to be settled. She considered leaving them to it, just to see which of them prevailed in the end.
But the world was in pain, and that she could not allow. The stars were but embers, the sun a faded echo, the heavens gone red. The world convulsed beneath the weight of chaos, crumbling. Its destruction was not her will, and so she moved to prevent it.
Tiamat spread her wings. Where her shadow fell, the seas rose – all of the seas. Even the primordial waters of the abyss surged up at her whim. They rose higher and higher, swirling about the roots of the World Tree to snuff the burning stars. As the waters washed over the lands, the combatants at last noticed her presence. They turned as one.
Tiamat struck.
The azure energies of creation surged at her whim, and she began to remake the world as fast as it crumbled. At her cry, the waters rose and the life-giving energies became as chains, lashing about the monster of the abyss. It was an intruder, and one not fit to walk her world. Therefore, it would be punished. It had destroyed one world. Thus it was only fitting it be imprisoned by the birth of a new one. It screamed hatefully as it was pulled under and cast back into the prison that had been made for it. It would trouble her world no more, or until such time as she allowed the stars to become right.
Tiamat turned her attentions to its opponent. The god of the heavens shrank before her might, his power exhausted by the struggle. She caught him in one gentle claw, curious. He was not a god of her blood, but she recognized his divinity nonetheless.
In another time, he might have been a worthy match for her. But now he was much diminished and weak, like all of the other little gods who had sprung up after she had begun her slumber. And like them, he was of no concern at all. Satisfied, she cast him aside, letting the waters of new creation take him where they would. She had other matters to attend to.
The world called out for the touch of its mother, and she would reshape it into something stronger. Something better.
And she would never leave it again.
A New Dawn
[
]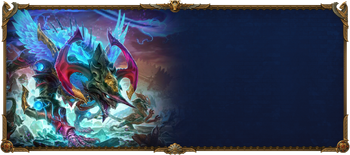 The island shuddered, as if in agony, but Ares paid it no mind. He had enemies to fight and a war to win. The mortals were little challenge, but the creatures they had summoned to their aid were proving more entertaining. Monstrous, ichthyic abominations – the worst of man, frog and fish combined into one.
They poured out of the strangely-angled structures that covered R'yleh like barnacles, croaking and snarling. Dozens at first, then hundreds. Poseidon had called them 'deep ones', but Ares did not know whether that was a title or merely a description – nor did he care. They fell before him all the same. As their master would fall, when Ares at last deigned to meet him in open battle.
Before coming to R'yleh, he had toppled every desecrated altar and corrupted temple that the Great Dreamer had claimed, in an effort to weaken the creature. Like all gods, Cthulhu drew some measure of power from mortal worship, and Ares intended to deny him that resource before they met in battle.
Above him, the skies roiled and wept red rain. It stained his armour and flesh, painting both he and his surroundings crimson. It mingled with the oily ichor of the frog-things and sent up a nauseating odor. Ares trudged on, battering his opponents with blade, shield and chain, leaving a trail of carnage across the odd contours of the island.
Somewhere behind him, Poseidon followed, but more slowly. Warily. His uncle was broken in body and spirit, but Ares knew that, like the sea, he would soon renew himself. It was only a matter of time. But he had no intention of waiting for the other god to catch up. Not when his destination was at hand – the great temple-fane of R'yleh. The sepulchre of Cthulhu himself, where he had slumbered for time of mind.
When Ares at last stood before the towering bronze doors, now burst from their hinges, he found an army waiting for him. Or, rather what was left of one. Mortal and otherwise, they had drawn themselves up into crude phalanxes. He stopped at the top of the obsidian steps that led up to the doors and surveyed the last of his opposition.
"Is this it?" he said, finally. "Is this all you have for me?"
At the sound of his voice, a ripple of unease passed through their ranks. He could almost smell their fear, and he found it pleasing. They should be afraid. Was he not the God of War? He struck his shield with the flat of his blade and started towards them. They charged to meet him in a gibbering horde. He picked up speed, ready to strike the centre of their line like a battering ram.
But at the moment of impact, the world gave a sudden, inexplicable lurch. Earth and sky seemed to switch places for a moment, and there was a great wash of light that blinded him. Suspecting some trick of Cthulhu's, he paused – and in that instant, his war was finished. The light faded and before his astonished eyes, the ranks of his foes crumbled away like windblown ash. Mortal and monster alike were wiped away as if they had never been at all. Uncreated by some alien force. Ares lowered his sword.
Anger flooded him and he rounded on Poseidon, as his uncle climbed the steps towards him, leaning wearily on his trident. "Gone," Ares snarled. "All of them!"
"Something has happened," the God of the Sea said. "Something has changed. It feels as if…something new has come into the world."
Blue fire limned the heights, and the island was beginning to convulse. Great blocks of stone tumbled down, turning to dust before they struck the ground. Like its inhabitants, the island was being obliterated. Ares watched it for a moment, and then looked at his uncle, eyes burning. "Whatever it is, it stole my victory. And for that, I will have answers."
*
On one of the many garden-balconies of Olympus, Olorun stood and looked up at the sky. Blue and clear now for the first time in months. He could even feel the stars – faintly, but they were there and calling out to him. He sighed, feeling more at ease than he had since he'd descended from the heavens.
Olympus was as it had been. Restored to its former glory, by a power he did not yet understand – and the world with it. Gods from every pantheon now scoured the globe, searching for any sign of corruption.
There was a hiss of displaced air and he turned to see Zeus and Hera striding towards him. The former king of Olympus smiled. "Gone," he boomed. "All trace of him – every speck of filth and madness, washed away as if it never had been. His followers have crawled back into their holes, and good riddance to them."
"You are certain?"
Zeus frowned. "Even now you cannot smile. We have won a great victory." Hera laid a hand on her husband's arm.
"Olorun is right to be cautious," she said. "Though he defeated the beast, we must truly certain it is gone."
"That is just it – I did not defeat Cthulhu," Olorun said. Those last moments were still a blur for him. He'd felt another presence thrust itself into the conflict
"I know what I saw," Zeus said. He caught Olorun by the shoulder in what was meant to be a friendly gesture. "You met that creature in battle in a way I could not, and your strength proved the greater. For that, I am willing to put aside our grievances – at least for now." He said the last with a smile. He had yet to acknowledge Olorun's kingship, but neither was he actively attempting to suborn his rival's authority. For the moment, it was enough. There had been enough conflict of late, Olorun thought.
He returned Zeus' smile. "Have you heard from Ares?"
Hera nodded. "R'yleh is gone. Ares is returning to Olympus, with Poseidon." She looked up at her husband. "And Heimdallr has received word from Odin and the Aesir – the World Tree is healthy once more. Somehow, it is as if some power…undid all that had been done in these past months."
"Then perhaps it truly is over," Olorun said, trying to ignore the seed of doubt nestled deep within him. He thought again of what he'd seen as he battled Cthulhu – a divine immensity unlike anything he'd ever encountered. A god, he thought, but one he did not recognise. As it – she? – had touched him, he had seen flashed of another age, another world. Glimpses of times long past, now forgotten.
He had seen another god, as well. Or maybe a mortal. A king, at least, from his garb and bearing. Running through a cedar forest. Towards a battle – or perhaps away from one; Olorun could not tell. He had not mentioned these visions to Hera and the others. He would not, until he knew more of what the visions might mean.
"That's the spirit," Zeus began, laughing – but it was cut short by a sudden pall of darkness. It was as if night had come, all at once and without warning. He heard Zeus curse, and the winding of Heimdallr's horn from elsewhere in Olympus.
Olorun turned, eyes widening. A mountain rose over Olympus. A mountain that had not been there a moment before. And at its top, a ziggurat. A shimmering palace of a size and grandeur greater even than Olympus. Something about it reminded Olorun of his visions. He made to speak, but before he could do so, the air was split by a crack of thunder – no.
Not thunder.
Wings.
He looked up, just in time to see a blaze of blinding blue light. When the light faded, it revealed a gigantic serpentine shape hovering over the heart of Olympus. Wings made of light thrummed, holding the great form aloft. Scales that seemed to be every colour and none gleamed as the fearsome head dipped – her head, Olorun knew. It was a her. The newcomer's gaze burned with a chill radiance that reminded Olorun of the stars themselves.
Heimdallr, Athena and the others arrived then, weapons at the ready. Olorun gestured sharply, stopping them before they did anything foolish. Silence fell as the newcomer studied the gathered gods, and was studied in her turn. Even Zeus seemed awestruck by her, though Olorun had no doubt that his normal bellicosity would reassert itself.
"Good morning," she said, in a voice like the crashing of water. Olorun winced at the volume, and the newcomer lowered her voice. "Forgive me," she said. "I forget how sensitive your ears are." She swept her burning gaze across the assembled gods. "And how interesting – look at you." Her eyes fixed on Zeus. "You remind me of someone." She leaned close to Zeus, and he summoned a crackling bolt of lightning into his hand. She gave a rumble of laughter and drew back. "No. Too young. All of you…so young."
Olorun cleared his throat. "Who are you?"
"Someone who has been asleep for a long time. Too long, by the looks of things." Her gaze fixed on him, and he felt – just for an instant – as if he were looking into the dark places between the stars. "What have you been up to, to awaken that squirming parasite, Cthulhu? He nearly tore this world apart."
Olorun frowned. "It was a mistake. It will not be repeated."
"I should hope not. If I hadn't awoken when I did – well. I shudder to think of what might have occurred had I not cleansed the land of his taint." She rose to her full height. "I spent too long creating this world to see it destroyed in so cavalier a fashion."
"You created –" Olorun began, and heard other gods, Zeus among them, react similarly. He gestured sharply. "Never mind. How did you come to…awaken?"
Her great tail uncoiled, depositing the limp figure of Ra onto the ground. "You have this one to thank. His fire awoke me from my slumber. Though he appears to have suffered for it. In my day, gods were somewhat sturdier."
Olorun gestured and Yemoja emerged from the crowd of gods to kneel beside Ra. He would have questions for the Sun God when he recovered, but for now he focused on their guest. "Who are you?" he asked again. "I feel as if I should know you, but I cannot recall ever having met you."
The newcomer bent until her face was level with Olorun's. "I have as many names as there are stars in the sky. But you may call me Tiamat. It is a pleasure to make your acquaintance, young one."
"Young one?" Olorun paused, somewhat taken aback. "I am called -"
Tiamat stretched languidly, interrupting him. "It is no matter. I am sure I shall learn your name in time." She looked around. "You are more modest than the gods I remember. This palace is quite small."
Zeus' eyes flared with lightning, and Hera caught his arm. Her expression was shrewd – calculating. Olorun gestured to the newly appeared mountain. "And is that one…yours?"
"Oh yes. At least for now." She shook herself, her scales vibrating with almost musical resonance. "I am used to something grander, I admit, but one must make do when one is pressed for time." She cocked her head. "I hope you do not mind?"
"Of course not," Olorun said, carefully. He wondered if this were a test of some sort. "All gods are welcome in Olympus."
"As they are welcome in my hanging gardens," Tiamat said. She stretched, wings extending with a harsh crackle of mystical energy. "I think there is much we can learn from one another, little god." She paused, and looked at him knowingly. "I would rather not repeat the mistakes of the past, if I can help it."
Olorun hesitated as she threw his own words back at him. She was gone before he could reply, her wingbeats shaking Olympus to its foundations. "Well," he said. "That was unexpected."
"That was a dragon," Zeus growled. "And an arrogant one."
"A goddess," Hera corrected, mildly. She had a thoughtful look on her face. "Tiamat – I know that name, though I do not know from where. It is like…"
"The ghost of a memory," Olorun said. He shook his head. "Something we once knew, but have forgotten." He looked towards the distant mountain.
"And I, for one, would like to know more about our new neighbour…"