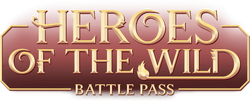 The Heroes of the Wild Battle Pass was the fourteenth Battle Pass to be introduced to SMITE and the second battle pass in Season 8. It released on March 23, 2021 and ended on May 18, 2021.
The battle pass features god skins for Fenrir, Amaterasu, Bacchus and Zhong Kui.
Description
[
]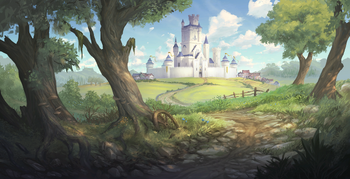 The Battle Pass lets you unlock Skins, Chests, and other rewards just by playing SMITE. You'll earn Battle Points with every game you play by leveling up your Battle Pass and unlocking a reward every level for 60 levels. Begin leveling on day one and unlock awesome loot from the free track, including Chests, Favor, Cosmetics, and more! If you choose to buy before the Battle Pass ends, you'll instantly unlock every reward up to your current Battle Pass level.
Rewards
[
]
Standard tracks
[
]
Players must accumulate a total of 60000

Battle Points to unlock all the items in these tracks.
⠀


Level 4
2000X VP
Currency

5% BP Boost


Booster

Level 27
⠀


⠀
Skin
Team Booster

Level 34
⠀


⠀
5% BP Boost


Booster

Level 54
⠀


⠀
5% BP Boost


Booster

Quests
[
]
Players who own the premium pass can complete additional quest objectives to earn extra BP. There will be 20 quests in total, with two new quests being made available each week. All quests can be completed at any time up to the very end of the battle pass. Completing all quests will grant a total of 8000

.
Jump Party

All the Gold
You're on a Roll!

Arcane Power!

Requirement

Play as a Mage in 1 Match.
Money Money Money!

First Things First!
Killing Spree

Big Smiting Energy!
Play With Me!

You Rock!

Requirement

Say "You Rock" after your teammate gets a kill, 3 times.
MVP!

Say Hello!
Jump Along!

Big Damage!
Gone Hunting

Requirement

Play as a Hunter in 1 Match.

In it to Win it!
Videos
[
]