The Monstercat Battle Pass was the fifthteenth Battle Pass to be introduced to SMITE and the third battle pass in Season 8. It was released on May 18, 2021 and ended on July 13, 2021.
The battle pass features god skins for Gilgamesh, Hades, Chang'e and Khepri.
Description
[
]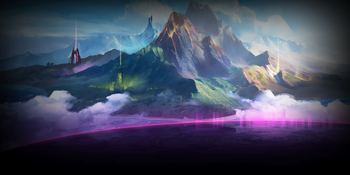 SMITE x Monstercat Starts Now
[
]
Crab Rave on the Battleground of the Gods with the SMITE x Monstercat Battle Pass. This crossover features four skins inspired by the work of chart-topping artists: Slushii, Noisestorm, Sullivan King, and Koven. Even better: You can unlock four full Music Themes!
Choose from the hot new Slushii track "Valhalla," the Internet classic "Crab Rave" by Noisestorm, the romantic liquid drum & bass of Koven's "Give You Up," or the heavy-hitting grit of Sullivan King's "Someone Else."
Play SMITE. Earn Legendary Rewards!
[
]
Earn Battle Points while playing SMITE and unlock all kinds of incredible content such as the Monstercat Avatar, Lost Civilization Loading Screen, and more as you level up through each of the 60 levels.
You will also earn in-game currency for reaching milestones along the way.
Premium Battle Pass
[
]
Unlock Sullivan King Gilgamesh when you purchase the Premium Monstercat Battle Pass in-game for 700
Gems.
Complete the Battle Pass to earn all the rewards on your track!
Monstercat PLUS Battle Pass
[
]
Get an instant boost by purchasing the Monstercat PLUS Battle Pass. This option includes the Premium Battle Pass and 13,000 Battle Pass Points which unlock all rewards up to level 25, including Slushii Hades.
Free Rewards for Everyone
[
]
Every SMITE player earns rewards, even without purchasing the Battle Pass. Begin leveling on day one and unlock awesome loot from the FREE track including the Sullivan King Announcer Pack, the Valhalla Music Theme by Slushii, and more!

Rewards
[
]
Standard tracks
[
]
Players must accumulate a total of 60000

Battle Points to unlock all the items in these tracks.
⠀


Level 4
2000X VP
Currency

5% BP Boost


Booster

Level 27
⠀


⠀
Skin
Team Booster

Level 34
⠀


⠀
5% BP Boost


Booster

Level 45
⠀


⠀
Koven
Level-Up Skin

Level 54
⠀


⠀
5% BP Boost


Booster

Quests
[
]
Players who own the premium pass can complete additional quest objectives to earn extra BP. There will be 16 quests in total, with two new quests being made available each week. All quests can be completed at any time up to the very end of the battle pass. Completing all quests will grant a total of 8000

.
Jump Party

You Rock!

Requirement

Say "You Rock" after your teammate gets a kill, 2 times.
You're on a Roll!

Play with Me!
It's Hunting Season!

Requirement

Play a Hunter in 1 Match.

In it to Win it!
Killing Spree

Big Smiting Energy!
Play With Me!

Money Money Money!
Arcane Power!

Requirement

Play a Mage in 1 Match.

Say Hello!
Jump Party!

Big Damage!
Videos
[
]