Odyssey: Underworld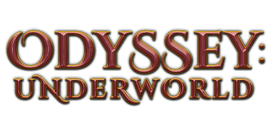 Odyssey: Underworld (also known as Odyssey 2020) was part of SMITE's annual Odyssey event series. This edition was made to celebrate the introduction of Persephone, Yemoja and Heimdallr. This event began on September 17, 2019 and ended on February 25, 2020.
Additional information can be found here: Odyssey: Underworld promo site.
Olympus had a new king. The word went out across the realms. To every fane and temple, to every heaven and hell. To every underworld. The word flew to every ear keen enough to perceive it - a god of starlight had descended to claim the throne… and Persephone was not impressed.
The Queen of the Underworld's Odyssey to rid the world of the gods' hubris starts now!
Stellar Demise Baron Samedi
[
edit
|
edit source
]
"Specimen acquired. Returning to drop point for payment and transfer. I don't like the look of this thing one bit, so you better be on time."
The community-chosen, Tier 5 Odyssey Skin is here! Stellar Demise Baron Samedi will join the ranks of Archon Thanatos, Frostfire Ullr, and Godslayer Ares as this year's ultimate Odyssey reward. Earn 130 Odyssey Points in Odyssey: Underworld to unlock this interstellar reward. And for the first time ever, Stellar Demise Baron Samedi will be available on Day 1 of the Odyssey!
Earn Odyssey Points. Level Up. Unlock New Treasures!
[
edit
|
edit source
]
Collect Odyssey Points by completing a series of challenging quests or by purchasing content. With every 5 Odyssey Points earned, the player will make progress up the Odyssey Rewards bar and receive an Odyssey Chest roll, with exclusive bonus content. Complete the full rewards bar to receive the ultimate Odyssey reward: Stellar Demise Baron Samedi. Don't want to wait? New to this Odyssey: Players can unlock this unlimited Tier 5 skin on Day 1!
Complete Challenging Quests
[
edit
|
edit source
]
With each new patch, Persephone's journey to to end the reign of the oppressive gods continues, unlocking new Odyssey Quests along the way. Completing these quests will earn Odyssey points, allowing players to gain Odyssey Levels -- plus Skins and Chests -- for free. Earn up to 30 Odyssey Points by completing these quests over the course of the event!
This year's Odyssey brings back updated fan-favorite Adventure modes! Be on the lookout for several of these game modes to cycle throughout the duration of the Odyssey.
Odyssey: Underworld Cosmetic Items
[
edit
|
edit source
]
These are the items that are available during the event, sorted by the patch they were released in. Items are sold at a
Gems price discount during the week that they were added (for example, a 600
item will cost 400
, a 300
item will cost 225
).
Purchasing every item during their respective sales would cost 8800
, while buying them at full price would cost 12900
. If the aim is to unlock all collection rewards, the player can complete all odyssey quests and lower the total cost to up to 6400
with sales, 9300
with full price.
The "Buy All" function unlocks all purchasable Odyssey items and thus unlocks all of the Exclusive Odyssey rewards, including the Tier 5 Baron Samedi Skin. The cost will be based on the current gems prices of all items, with unreleased items being prepurchased at their discount price. Items that haven't been released yet will be unlocked as soon as they are available. The Rewards Center will display what Odyssey items will be granted next. Buying all Odyssey Items grants an exclusive Odyssey Player Title.
With every 5

Odyssey Points earned, players will progress up the Odyssey Rewards bar and receive an Underworld Odyssey Chest roll! Filling up the bar also unlocks Exclusive collection rewards, ending with the final reward-- the Unlimited Tier 5 Baron Samedi Skin!
It might be possible to earn rewards before they have been released by purchasing all current unlockable items while also completing all odyssey quests. These items will be automatically granted upon logging in after they're made available.
Odyssey Bonus Chest

Icon
Type
Release Date
Description
Treasure Chest
September 17, 2019
A Underworld Odyssey Chest roll, one granted for each level, every 5 Odyssey Points earned.
Discoveries
Story

Video

EmbedVideo is missing a required parameter.
Unlock exclusive content, Chest rolls, and more by collecting

Odyssey Points and progressing up the Odyssey Rewards bar! Odyssey Points are obtained by completing Quests or purchasing new Odyssey content. There will be 2 Quests released each week that must be completed in order on the Odyssey Quest page. All Odyssey Quests will expire on the last day of the Odyssey.
Underworld Quest 1

Requirement

Deal 30,000 Damage.

Reward

1 Odyssey Point

Underworld Quest 2

Requirement

Play 1 Game of Adventures.

Reward

1 Odyssey Point
Underworld Quest 3

Requirement

Play 1 Game of Assault.

Reward

1 Odyssey Point

Underworld Quest 4

Requirement

Play 1 Game of Adventures.

Reward

1 Odyssey Point
Underworld Quest 5

Requirement

Get 30 Kills and Assists.

Reward

1 Odyssey Point

Underworld Quest 6

Requirement

Play 1 Game of any Mode.

Reward

1 Odyssey Point
Underworld Quest 7

Requirement

Play 1 Game of Adventures.

Reward

1 Odyssey Point

Underworld Quest 8

Requirement

Earn 30,000 Gold.

Reward

1 Odyssey Point
Underworld Quest 9

Requirement

Deal 35,000 Player Damage.

Reward

1 Odyssey Point

Underworld Quest 10

Requirement

Play 1 Game of Adventures.

Reward

1 Odyssey Point
Underworld Quest 11

Requirement

Get 30 Kills and Assists.

Reward

1 Odyssey Point

Underworld Quest 12

Requirement

Play 1 Game of Adventures.

Reward

1 Odyssey Point
Underworld Quest 13

Requirement

Get 1 First Win of the Day!

Reward

1 Odyssey Point

Underworld Quest 14

Requirement

Play 1 Game of Adventures.

Reward

1 Odyssey Point
Underworld Quest 15

Requirement

Play a Hunter in 1 Game.

Reward

1 Odyssey Point

Underworld Quest 16

Requirement

Play 1 Game of any Mode.

Reward

1 Odyssey Point
Underworld Quest 17

Requirement

Deal 35,000 Player Damage.

Reward

1 Odyssey Point

Underworld Quest 18

Requirement

Play 1 Game of Adventures.

Reward

1 Odyssey Point
Underworld Quest 19

Requirement

Get 35 Kills and Assists.

Reward

1 Odyssey Point

Underworld Quest 20

Requirement

Earn 20,000 Gold.

Reward

1 Odyssey Point
Underworld Quest 21

Requirement

Play 1 Game of Adventures.

Reward

1 Odyssey Point

Underworld Quest 22

Requirement

Play a Mage in 1 Game.

Reward

1 Odyssey Point
Underworld Quest 23

Requirement

Play 1 Game of Adventures.

Reward

1 Odyssey Point

Underworld Quest 24

Requirement

Deal 35,000 Player Damage.

Reward

1 Odyssey Point
Underworld Quest 25

Requirement

Play 1 Game of Adventures.

Reward

1 Odyssey Point

Underworld Quest 26

Requirement

Get 30 Kills and Assists.

Reward

1 Odyssey Point
Underworld Quest 27

Requirement

Get 1 First Win of the Day!

Reward

1 Odyssey Point

Underworld Quest 28

Requirement

Play 1 Game of Adventures.

Reward

1 Odyssey Point
Underworld Quest 29

Requirement

Play a Hunter in 1 Game.

Reward

1 Odyssey Point

Underworld Quest 30

Requirement

Earn 40,000 Gold.

Reward

1 Odyssey Point
Olympus has a new king.
The word went out across the realms. To every fane and temple, to every heaven and hell. To every underworld. From the nine regions of Mictlan to the deep islands of Annwn. From the frozen shores of Niflheim to the depths of Tartarus. The word flew to every ear keen enough to perceive it – a god of starlight had descended to claim the throne.
Persephone was not impressed. Olorun struck her as an ambitious interloper at best and an idealistic fool at worst. Who was he, this god of the heavens? Where were his temples? Who were his followers? Questions no one seemed able to answer.
"Why are we here, husband?" she asked, looking up at Hades, as they approached the throne room of Olympus. "There are more important matters requiring our attentions than the coronation of a foreign king."
"Politesse, my dear. We were asked to come, and so we have come." Hades threw back his all-concealing hood, revealing handsome, pale features. As ever, the sight of him took Persephone's breath away. Nonetheless, she arched an eyebrow.
"Commanded, more like."
"Be that as it may, even my sister recognizes his claim to the throne."
Persephone snorted. "Because she's an ambitious hypocrite, and always has been."
Hades frowned. "I would not go that far."
"No? Wasn't she the one advocating for a council of the gods, not long ago? All with an equal voice in the affairs of the world? What happened with that particular endeavour?" Persephone shook her head. "I do not deny the good Hera has done, or that she has suffered for it. But I find it strange that she, of all of us, would welcome this stranger – and let him sit on her husband's throne, as easy as you please." She tightened her grip on his arm. "I would never allow such a thing."
Hades gently kissed the top of her head. "No, I have no doubt that you could rule in my stead, and rule well, daughter of Demeter." He laughed. "Sometimes I even consider abdicating, and just letting you get on with it."
Persephone slapped his arm. "Don't joke about such things. I'd rather not tempt fate at this juncture."
Hades' smile faded. "Are you certain about this?" he asked, softly. "This plan of yours.. it is dangerous. Have you fully considered the consequences?"
"I always consider the consequences, my love. From the moment I bit into the pomegranate, I have done nothing else." She smiled sadly. "You know as well as I that if it is not done now, we may never get another chance. Who knows what havoc this Olorun will wreak, or what unseen ramifications Hera's actions will have. If humanity is to survive, we must help them. For who better than us knows what they endure?"
Hades sighed. "Yes. Before, I did not see." He kissed her again. "Not until you showed me, my dear. Whatever comes, I will be by your side."
"That is all I ask, my love." Persephone thrust an errant curl out of her face. "Now – smile. We got to meet a king."
Ahead of them, the great doors to the throne room of Olympus were pulled open by two guards, clad in Olympian livery. Persephone bestowed a kindly smile upon the men as they knelt at the passing of the gods. Once, she had barely noticed such little souls. As her mother's daughter she'd had greater concerns than the brief lives of those who fed on Demeter's bounty.
But upon becoming the Queen of the Underworld, she had been forced to learn. To sit in judgement beside her husband and hear the stories of the dead. Ignorance had given way to sympathy. How could one listen to such tales of grand tragedy and quiet heroism and not be moved by them? And more besides – for she had seen the awful pattern that bound every little soul that descended into the underworld.
Her fellow gods were not the protectors she had imagined them. Instead, most of them were conniving tyrants, grasping greedily for worship without pause or concern for what effect their actions had on those they were supposed to protect. Hades was different – there was kindness in him, though he hid it beneath stoic indifference. It had taken years for her to help it flourish and grow, to show him how to be the kind of god the dead deserved.
There was music playing, beyond the doors. Gods from all the pantheons had come to Olympus to see this new self-proclaimed king. Servants and spirits moved among them, carrying refreshments. She saw some gods she recognized, others she knew by reputation only. Izanami, Matron of the Dead, glared at her challengingly and flexed clawed fingers, while Baron Samedi tipped his hat respectfully. But while many of the gods of the dead were here, there were also gods of life and light, thunder and sea, in attendance. She spied horned Cernunnos prowling the edge of the crowd, his gaze wary and his manner that of one uncomfortable with such gatherings. Terra, the Earth Mother, stood regal and aloof amid lesser gods, her expression unreadable, as nearby, aged Sylvanus relaxed in the branches of his lumbering tree-beast and conversed animatedly with Amaterasu, the goddess of the sun. There were others whom she knew only by sight. Representatives from almost every pantheon had come, it seemed.
Among the familiar faces, she saw Nu Wa, the Guardian of Heaven. The goddess stood watching the new king of Olympus, a speculative expression on her face. Persephone glanced at Hades, and he nodded. She pushed through the crowd towards her old friend. Nu Wa was one of the few gods Persephone respected, for they shared a concern for the lives of mortals. "And what do you make of him then, my lady?" Persephone murmured, as she joined the other god. "He has descended from your territories, has he not?"
Nu Wa shook her head. "No, he comes from stars farther than mine, though their light shines just as brightly." She looked at Persephone. "What is your opinion of him?" Persephone shrugged. "Too early to tell. Though I find it hard to trust anyone who is so eager to claim a throne that is not theirs."
"Zeus is gone. Someone must sit on it."
"Must they?" Persephone murmured.
"Your husband once attempted it, setting his nephew and niece against one another." Persephone frowned. "A mistake. One he has sworn not to repeat."
"And what of you?"
"Persephone looked at Nu Wa, but saw no hint of guile in her expression. "I do not make mistakes," she said, after a moment. She glanced towards the throne, and the being who occupied it. He was.. impressive, that could not be denied. He shone with a celestial radiance, even at rest, and his eyes blazed like distant suns. They passed over the gathered gods, seemingly missing nothing.
She had seen that look before, on Hades' face – and on her own. Here was a god who fancied himself a judge. A flicker of unease passed through her as she considered the implications. Hades, noticing her disquiet, joined her and took her hand.
"It will be all right, my love. Whatever else, I am here."
Persephone smiled.
Olorun frowned.
"They did not all answer my summons," he said, quietly.
Hera turned. "Did you expect that they would?" The once-queen of the gods stood at his side, as his advisor. The others had their own tasks. Ra and Kukulkan had gone forth as Olorun's ambassadors to the pantheons, while Horus hunted for his treacherous uncle.
"No." Olorun paused. "But I hoped." He sighed. His claim to the throne was still tenuous. Set was abroad and causing no end of trouble. Too, Bellona, Discordia and various others saw opportunity in the current strife. While they had not defied Olorun openly, neither had they acknowledged his authority.
"It will take time."
"It will take more than that, I think. They hear words, but they must see action before they will believe."
"And that, I presume, is why you called this gathering." Hera frowned. Olorun could feel her annoyance. He had not told her why he had requested the guardians of the various underworlds to attend him. It was not a matter of trust. He could read her heart as easily as he could read the stars.
"Yes," he said.
"What are you planning? I cannot help you, if you do not tell me."
"Patience, Hera. All things have their season." Olorun leaned forward. The throne was uncomfortable. He supposed that was the point. It kept one alert. He studied the gathered gods. They talked amongst themselves, but there was no friendliness, no camaraderie – only politesse. Something Olorun intended to change. For many mortals, the gods of the dead were the first and only gods they ever met. Of all the gods, they were the ones who knew humanity best.
"Do you smell that?" Hera muttered. "Camazotz. Foul creature."
"Olorun followed her gaze, and saw the bat god crouched atop one of the broken pillars that lined the throne room. The creature did not seem interested in socializing with the other gods. Instead, he eyed them with undisguised greed, eyes alight with bestial anticipation. The creature stiffened suddenly, and turned to meet Olorun's gaze.
Olorun met and held Camazotz' glare, and the bat god looked away first. "The Lords of Xibalba sent him as their representative, even as I sent Kukulkan to them," Olorun said. "Their idea of a joke, perhaps."
"Better the death bat than Ah Puch, at least." Hera paused. "Ah. Late as ever."
"Ah. Late as ever." Olorun turned. "Hades and Persephone," he said, recognizing the two gods walking hand in hand towards the throne. The other gods gave way before them, though whether out of respect or fear, he couldn't say.
"Clever Persephone," Hera said, a slight smile on her lips. "And my brother, trailing after her like a shadow. Nothing ever changes."
Olorun didn't look at Hera. "There is derision in your voice." He didn't ask the question, but Hera answered it regardless.
"Some, perhaps. She thought she was clever. But the only profit it brought her was my brother's kingdom of shadows."
"It seems to agree with her."
Hera's frown returned. "Yes. Sometimes, I wonder if she was as foolish as we thought. She has proven an able consort for Hades, if nothing else."
Olorun smiled slightly. "You do not approve?"
"Hades was besotted with her."
"You did not answer my question."
Hera didn't reply. Hades and Persephone had reached the foot of the dais, and together, they knelt. Olorun gestured. "Stand, please. I ask no god to bow before me."
"And yet you call yourself king," Persephone said.
Olorun felt Hera bristle, but bestowed a wide smile upon Persephone. "Do you doubt me?" he asked, making no effort to speak quietly.
Persephone glanced at Hades. "We do not know you, my lord," Hades said.
"That I speak for him should be enough," Hera said.
Olorun raised his hand. "Peace, Hera. I can speak for myself. And he is right. They do not know me. None of them do. Long have I maintained my distance from the affairs of gods and mortals.." He rose to his feet.
"But that time has come to an end."
Persephone felt a wave of power radiate from Olorun as he rose. From his expression, she could tell that Hades felt it as well. The new king of Olympus had all the strength of Zeus or Odin. A god among gods. To confront him openly would be foolish, if not suicidal. It was no wonder Set had made himself scarce, and that Bellona and the other, more belligerent gods had not issued the expected challenges.
Olorun descended the steps of the dais, his radiance dimming only slightly. "Who is this pretender to Zeus' throne? That is the question you ask yourselves, even as you partake of my hospitality. Nor are you alone in asking it."
He smiled, and the light around him turned warm and comforting. "I do not begrudge you the question, my friends. You have every right to ask it. You have every right to ask it. You have every right to question my right to lead. As yes, I have given you no reason to trust me – or follow my commands." His smile faded, and the warmth with it. "But I will. That is why I have requested your presence, especially." The light that bled from him changed, becoming stark and piercing. Persephone was reminded of the cold emptiness between the stars.
"As far as requests go, it sounded an awful lot like a command," Baron Samedi spoke up. He leaned on his cane, a wide smile on his face. "I don't know about the rest of you, but I'm not partial to being told what to do."
"Indeed," Izanami said, her voice as cold as the grave. "Such a command smack of hubris. We are not lackey, to be ordered about thus." Her eyes flashed with rage as she pointed a rotting talon at Olorun. "Did you call us here just to flaunt you strength?"
"No," Persephone said. "No, he wants something from us. Something he cannot get from any other god." She looked up at Olorun. "That is it, isn't it?"
"Indeed." He nodded. "You are as clever as Hera said." He looked around. "You rule the dead. You know all who die, and pass through your realms. Is this not the case?"
Persephone glanced at the others. Some looked confused. Others, wary. "We know the dead by name and deed," Hades said. "That is our duty."
Olorun looked at him. "So where then are the fallen gods?"
Silence fell, and the question hung on the air. Persephone tightened her grip on Hades' arm. Olorun shook his head. "Could it be that you do not know?" he said. "Could it be that Zeus and the others slain in the early wars of the pantheons are not truly dead?"
"If that is the case, where are they?" Samedi asked, smiling slightly.
"I believe he is asking us, Baron," Persephone said.
"Forgive me, my lady but I make no claim to omniscience, save where it concerns the dead. And since they are not dead, as Lord Olorun maintains.. well. I am at a loss." Samedi turned. "What of you, Lord Hades?"
Hades drew up his hood, hiding his face. "I have nothing to say on the matter."
"One of us must," Anubis growled. "They have no passed to me for judgement, though I expected Osiris at least." He turned a suspicious glare on his fellow gods. "Olorun is right, one of us must know something – anything!"
"The Lords of Xibalba know nothing of this," Camazotz hissed. "There are no gods in their ball courts."
"Would they tell us if there were?" Anubis said.
"Choose your words carefully, jackal," Camazotz shot back. He flapped his wings, as if readying himself to leap. "Or I might be inclined to add your head to my collection."
"He has already died once," Izanami said. "I know this, for I saw it. And yet here he is." She bared her teeth in a savage grin. "Do you have an answer for us, my lord?"
"I assume it is the same as yours," Anubis said. "I am lord of death, and it has no true hold over me. Not for any length of time."
"A pretty story," Izanami taunted. She tossed her hair, dislodging a maggot, and gestured with a claw. "Shall we test that boast?"
"Silence," Olorun said, before Anubis could reply. Again, his eyes swept across the assembled gods, and even Izanami looked away. "Anubis speaks the truth. Gods, whatever their sphere, cannot truly die. But they can be trapped. I know this, for I have seen it. Even as I know the identity of the one who holds them captive." His gaze came to rest on Hades.
"My lord.. perhaps you best explain yourself."
Olorun watched as Hades stiffened, as the other gods turned to him in shock. Hera stared at him. "Brother – what have you done?" His eyes flicked to Persephone, watching her expression. She glanced at him and he knew then he had made the right choice.
It was a calculated risk, this. But a grand gesture was needed. He had to show the gods what sort of king he was, so that there could be no room for doubt. If that meant confronting the lords of the underworlds and forcing their acquiescence, so be it.
Hades shook his head, and made to reply, but Persephone touched his chest. "No, husband. I will not let you take the blame for my actions." She looked at Olorun. "My husband is not at fault, as you well know."
Olorun nodded slowly. "I do. What I do not know is why."
"What?" Hera said, looking back and forth between them. "What do you mean?"
"Zeus and the others are not dead," Persephone said, not looking at her. "They merely sleep. And will do so until I say otherwise."
"You.. have my husband?" Hera said, softly. Olorun set a hand on her shoulder.
"Peace, sister." He looked at Persephone. "Why have you done this? Why prevent them from returning, as Anubis and the others have?"
Persephone drew herself up, and matched Hera's glare with her own. "All of them came to me, as meekly as the souls of the mortals whom you pretend to care about. And so, like the mortals, I judged them." She paused. "They were found wanting."
"You do not have that right," Hera began.
"I have every right," Persephone said, cutting her off. "As Queen of the Underworld, such is my prerogative. And while they are mine – while Zeus is mine – he will never return to Olympus." She cut her eyes to Olorun. "Then, that would suit you, wouldn't it?"
Olorun frowned. He felt the sting of her words, and knew the other gods were wondering the same thing. "You know nothing about me."
"I know enough. You call yourself king, while the true ruler of Olympus languishes in the underworld." Persephone smiled. "But fear not, pretender. He will continue to do so. Zeus and the others are mine. I will not release them. They sleep now. But soon, they will do more than that. Something much worse." She laughed. "Just recompense for the lives they have destroyed with their hubris, I think."
"I will not allow this," Olorun said. He descended the dais, as if to seize her, but Persephone gestured and thick tendrils of plant matter erupted explosively from the floor. The writhing tendrils lashed out violently, driving back the closest of the gods. Olorun swept out a hand and loosed a blazing orb of celestial energy. Tendrils withered at the touch of the orb, but more rose to replace them as Persephone retreated into Hades' embrace.
The lord of the underworld enfolded his wife in his cloak, and darkness bloomed, obscuring them from the sight. Even as Olorun lunged forward, his light sweeping away the dark, he knew they were gone – vanished from Olympus, and returned to the safety of the underworld. Only Persephone's last taunting words remained to mark their passing.
"If you want Zeus and the others, you will have to come and get them."
The Warden of the Underworld dozed.
Cerberus lay in his usual spot overlooking the Styx, his trio of heads lowered across his massive paws. Occasionally, a triangular ear twitched as the great hound caught the slap of water against the hull of Charon's boat or the whisper of a harpy's wing overhead. One of his heads stirred as it caught the sound of footsteps and loosed a low growl of warning.
"Only me, my friend."
At the sound of his master's voice, Cerberus ceased his growling and gave a low, interrogatory whine. The other two heads joined the first, and three pairs of lamp-like eyes fixed on the approaching figure of Hades. "Master?"
"Be at ease," Hades intoned. His voice seemed to echo from beneath his hood.
"She is gone, then?" Cerberus rumbled.
Hades nodded solemnly. "Yes, what of our guests?"
Cerberus closed his eyes and sniffed the air. "They are near, but not yet at the river." He gave a guttural chuckle. "They make good time, though. I wonder if they have brought enough coins to pay for their passage..."
"Or maybe a loaf of bread, laced with honey and herbs?"
Cerberus grunted sullenly. "That was only the one time."
Hades laughed softly. Hands behind his back, he went to the edge of the escarpment and looked out over the River Styx. "They invade my realm. Once, no one would have dared to attempt such a thing."
"Except for Hercules," Cerberus said helpfully.
Hades sighed. "Except for Hercules. But Olorun is not so foolish as Hercules. And he has not come alone." He glanced at Cerberus. "It will be down to us, soon. We must keep their eyes here. Persephone is counting on us. Do you understand?"
Cerberus heaved himself to his feet and growled in acknowledgement.
"They will not get past me, master."
-
On the opposite shore of the Styx, Olorun thrust out his hand and released a beam of celestial light. It seared through the thick growth of thorny vines seeking to ensnare him, reducing them to motes of ash. "This way. Quickly - before they regrow!"
The tunnel descended at a shallow angle, curving away and down. The entirety of its length was full of twisting, thrashing vines. If there had been any other way, Olorun might have considered it. Persephone had obviously prepared for their coming.
Behind him, the others attempted to follow with all due haste. Horus, wielding his spear, chopped and thrust at the coiling vines that sought to entangle his wings. Beside him, Hera sheltered within the protective shadow of her hulking bodyguard, Argus, who bellowed in fury as for every vine he ripped loose, a hundred more wrapped about his forearms and neck. Bringing up the rear, one hand on his top hat, came Baron Samedi. He moved quickly, almost dancing through the bulging greenery as it sprouted anew. 
"I think we are not welcome here, my friends," he said, cheerfully. He batted a questing vine aside with his cane and laughed. "Either that, or Persephone really ought to chastise her gardener."
"You think this is a joke, Baron?" Hera said. "That witch has my husband - not to mention our other fellow gods - captive." A tendril slipped past Argus and arrowed towards her. She caught it mere inches from her face and squeezed it to a pulp. It was not alone. She was forced to smash the others aside with her sceptre.
"Save your recriminations for when we have her in chains, Hera" Horus said. He swept his spear out, slicing through a wriggling knot of tendrils. More surged forth from the walls and floor to replace them. "Until then, you would be wise to save your breath for fighting. These vines seek to bar our path with unnatural liveliness."
"Not for long," Olorun said. "Keep them off of me for a moment." Horus and Hera moved to either side of him, hacking and stabbing the vines with spear and sceptre.
Argus roared and tore whole masses of creepers from the walls of the tunnel, splattering the ground and his companions with foul-smelling sap. More vines sprouted, slithering along the walls, floor and ceiling, filling the tunnel with their charnel stink.
Olorun concentrated, seeking the light within himself, the light of the stars themselves, and the source of his might. But even as he found it, he felt the first questing vines creep up his legs. He heard Hera cry out, as her arms were pinned to her sides, and Horus' screech of fury as his spear was wrenched from his grip. Argus' muffled roars caused the tunnel to shudder, and even the Baron's laughter had ceased.
Olorun caught the light, and let it go. It burst from him in a shimmering tide, filling the corridor from end to end with a sound like the tolling of some great bell. The twisting, tangling vines that threatened to envelope he and the others were reduced to clouds of ash in mere moments. He sank to one knee, the world swimming about him. To expend his light in such a manner invariably tired him.
​Past the drifting ash, he spied an immense, iron-banded gateway at the far end of the corridor. His light had washed across it with no more effect than a splash of water. "Hera," he panted. "The gate is yours."
"Argus," Hera said. Her massive bodyguard thundered forward with a roar, trampling the already growing vines beneath his feet. He slammed full-tilt into the gateway, tearing it from its hinges with a squeal of ruptured iron..
"Here, brother, drink this," Baron Samedi said, handing Olorun a dingy glass bottle as he helped the new King of Olympus to stand. "My own personal brew. It'll put a bit of pep in your step, as they say."
Olorun took a swig and grimaced. Whatever it was, it burned going down. But he felt better- not fully recovered, but that would come with time. He handed the bottle back to the Baron and nodded in thanks. Baron Samedi tipped his hat. "Think nothing of it. Can't have the new King of Olympus faltering this close to finding the old, can we? Imagine what our fellow gods would say."
Olorun frowned. "I do not have to imagine. I can read their hearts as easily you might read a mortal's soul." He recalled the looks on the faces of the other gods as he revealed what he knew about the location of Zeus and the other missing deities - and how they had reacted when he made his intentions to rescue them known. Few gods would dare to invade the underworld, and for good reason. "They doubt me. Doubt my purpose."
"Not for long, I imagine," Baron Samedi said, as Olorun pushed past him. Argus stood outside the corridor, clutching the broken remnants of the doors. Hera and Horus waited beside him.
"We're here," Hera said, softly.
Olorun paused at the mouth of the corridor. Before him, a rocky slope fell away into the banks of a silent, black river. He could feel the chill of those waters, even from where he stood. The far shore was hidden by a pall of mist. "The Styx," he said. "How do we cross?"
"By boat. Come." Hera started down the slope, Argus trailing after her. Horus glanced at Olorun, and then followed. The young prince was still uncertain, though he hid it well.
​"And not a word of thanks for saving us," Baron Samedi whistled softly, an eerie tune. "Determined sorts, these Greek goddesses. And no end of trouble."
Olorun looked at him. "I know why she came. And Horus as well. But why did you volunteer to accompany me?" 
​The Baron shrugged. "One of us had to. A god of the dead, I mean. To see if you can do as you promise." He smiled. "And to prove our loyalty to you, if you turn out to be all that you claim."
"Loyalty is something every god will have to decide for themselves." Olorun started down the slopes after the others.
"And that is why I am here," Baron Samedi called out, hurrying after him.
The shore below was crowded with dead souls. Wispy things, barely formed, lacking in identity or personality. Olorun could feel the pall of their grief as the gods passed through them. "There are so many of them," he said.
"Look at all these sad souls." Baron Samedi shook his head mournfully. "How can Hades leave them like this?"
"It is not up to him," Hera said. "If they cannot procure passage, they must wait. That is the law of the underworld, older even than Olympus itself."
"It is much the same in Anubis' realm," Horus said. "Paradise must be earned."
"Or bought, apparently," Baron Samedi said. Horus shot him a glare, and the Baron tipped his hat. "Now me, I've never seen the point of turning away any dead fellow. All are welcome to my lands, when their time comes."
"How egalitarian," Hera said. "But we are not in your lands at the moment. We are in Hades' realm - or we will be, once we cross the river." She extended her sceptre. "There. Charon comes."
A low boat nosed through the mists that blanketed the waters. A lean, hooded figure stood atop it, poling his vessel towards the shore. As they spied him, the dead began to gather, murmuring in pleading tones. They stretched ghostly hands towards the boat, as if begging for passage.
​The boatman ceased his labours just short of the shore. He glared at the gods in silence, but made no move to draw closer. "What is he waiting for?" Baron Samedi asked.
"Charon will not take us across without payment," Hera said. She looked at the others. "Coins are traditional."
"And me without my money pouch," Baron Samedi said, making a show of checking his pockets. Horus flapped his wings.
"I do not require a boat."
​"Neither do I," Olorun said. He raised his hands. Celestial light flared, and the dark waters of the Styx began to bubble and froth. As he stepped into the river, the water turned to steam. He started towards the far shore, Charon staring after him in silent befuddlement.
"Come," Olorun said. "We have wasted enough time." The others followed him after only a moment's hesitation. The walk was not a short one, or a gentle one. The ground seemed to heave and shudder with every step he took, as if trying to slow him down. But he pressed on, letting his light well brighter and brighter, driving back the darkness of the underworld - if only for a few moments.
​-
Cerberus was waiting for them when they reached the other side of the river. The gigantic hound paced back and forth, heads lowered, fangs bared. Olorun stopped a respectful distance away and studied the creature. The beast was not a god, but it was powerful nonetheless. "Step aside," he said. "I have no wish to harm you."
​"Turn back," Cerberus growled. "You shall not pass."
Hera levelled her sceptre at the hound. "By whose authority do you deny us entrance?" she demanded, her voice harsh.
"By the command of your brother and my master," Cerberus said. His heads swung in opposite directions, so that they could keep all of the gods in sight. "You are not welcome here. Go, or I will devour you, body and soul."
"Hades has gone mad if he thinks you alone are a match for us," Hera said. "I will have my husband back, hound. Ru n and tell your master and mistress that the Queen of the Gods is in no mood for games."
As Hera spoke, Olorun sensed a sudden displacement of air. His hand shot forward, intercepting a barbed shaft before it could strike Hera in the throat. Startled, Hera turned. Olorun snapped the shaft into two and cast it aside. "The hound is not alone," he said, as he rose into the air.
Cerberus leapt.
Argus lunged to meet the beast and they slammed together with a thunderous boom. Stalactites fell from the rood of the cavern above, crashing down onto the shore like a lethal rain. More arrows emerged from the darkness on all sides. Horus swept his spear out, deflecting part of the volley. Samedi did the same with his cane. Hera had surrounded herself with a glowing field of divine energy, and the arrows that reached her shattered against it.
​The dead emerged then. Shrivelled things, clad in rotting raiment and bearing the sigil of Hades upon their brows, and covered in roots and vines. Some bore bows crafted from bone and sinew, others were armed only with shrivelled talons. A dozen at first, and then twice that in as many moments. An army of dead men, defending the gates of the underworld. Olorun heard the slap of water against bone and turned. More corpses rose from the Styx, and shambled onto the shore.
"It appears we are surrounded," Horus said, raising his spear.
"You have a keen eye, Prince Horus," Baron Samedi said, looking around. "Any suggestions as to how we get out of this?" 
​"Fight," Olorun said, grimly. He'd miscalculated - assumed that Hades and Persephone would see sense, and give in once he arrived at their threshold. And now he'd inadvertently led his allies into an ambush. He had only one recourse.
"Agemo - awaken," he whispered. "Awaken, my messenger." He raised his hand, and one of his bracers shimmered as something heretofore invisible became visible - the tiny form of a golden chameleon. It blinked its bulbous eyes at him, awaiting his command.
"Go Agemo - find Yemoja," Olorun murmured, as the dead pressed close about him. "Tell the goddess of rivers that I require her aid." The chameleon blinked and was gone a moment later. The dead closed in. He spun, light flaring from his fists, reducing the closest corpses to ash.
Argus flew past him to crash into the Styx. Olorun turned to see Cerberus loping towards him, jaws agape. He flung his hands out, catching the jaws of the central head before they could close abut him. He braced himself, but Cerberus' momentum drove him back.
"You are not the first god to storm the gates of the underworld," Cerberus snarled, forcing Olorun towards the water. "You will fare no better than they did!"
"Cease this madness," Olorun said. "You cannot stand against us."
​Cerberus' reply was a billowing cone of noxious breath. Olorun gagged as the miasma enveloped him. Through tear-stung eyes, he saw Cerberus' serpent headed tail rise up over the hound's back, and undulate towards him, tongue flickering. Olorun was forced to release Cerberus' jaws in order to avoid its strike.
The snake darted towards him again, and he caught it by the head. "I do not wish to harm you, hound," Olorun said. "But I will if I must."
The snake spread its jaws and spat poison. Olorun roared as the stinging venom spattered over his head and shoulders. The pain was unlike anything he'd ever encountered. He flung the tail away, and Cerberus pounced, slamming him into the ground. Blinded, choking, Olorun loosed a blast of light, driving the beast back. He tried to get to his feet as the hound retreated, head spinning.
As if sensing his momentary weakness, the dead pounced. They tore at him with fingers and teeth, trying to pull him down. He brought his hands together with a crash, releasing a burst of light that sent the corpses flying.
​He slumped. His strength was waning. He needed a moment to recover, but he doubted Cerberus would give him that opportunity. Hades and Persephone had planned their ambush well. Through the haze of poison, he saw that the others were faring little better. Horus, one wing broken, and his frame streaked with blood, stood back-to-back with Baron Samedi, who'd lost his hat somewhere.
As he watched, Baron Samedi swung his cane in a wide arc, decapitating two corpses. As the bodies collapsed, he scooped up their skulls and tossed them into the air, where they became enveloped in a strange, warm radiance. A moment later, beams of coruscating light erupted from their eye sockets and scythed across the ranks of the dead, But even as the first rank fell, more pressed forwards.
He turned. A heaving pile of corpses marked where Hera made her stand, as the dead tried to overwhelm her divine shield. Argus was still floundering somewhere in the Styx. No help there. Olorun looked up as a shadow fell over him. Cerberus glared down at him.
​Three sets of jaws struck, and only Olorun's speed saved him, He hurled himself aside, but Cerberus recovered quickly. The hound leapt on him, pinning him to the shore with one great paw. "I gave you the chance..." Cerberus growled, leaning close. He spread his jaws, but paused, a look of confusion on his faces.
Something had changed. He heard the sound of water and smiled. A moment later, the Styx overflowed its banks. The dark waters crashed onto the shore, washing over the dead, but leaving Olorun and the other gods untouched. Cerberus howled as he too was caught in the cascade. The Styx spiralled up in a water spout that contained both the struggling hound and the dead. It spun faster and faster, until each struggling form seemed to blend into the next. 
As it did so a tall woman, clad in blue, stepped from the waters. Agemo crouched on her shoulder, She raised her hand and gestured,. The Styx crashed back down between its banks with thunderous force. Of Cerberus and the dead, there was no sign.
"Yemoja," Olorun said. He tried to push himself to his feet, but couldn't find the strength. Yemoja caught him, as he stumbled and he felt new strength flood his battered frame. The others looked as if they felt better as well. She smiled at Olorun and shook her head.
​"Hello, Olorun. You've looked better."
-
Persephone breathed in the chill air of the great river. Behind her, thorny tendrils pulled down the tunnel upon themselves, hiding her route of egress from the underworld. There were many roads out of the darkness, and some known only to the kind and queen of the underworld. She paused, and glanced back, Dust billowed, and for a moment it seemed to take the shape of her husband's countenance. She felt a twinge of regret, but pushed it aside.
​Hades knew this was the only way. He had been willing to keep Olorun and the others occupied, chasing shadows, while she undertook the next phase of her plan. The raucous cry of birds drew her attentions back to the water.
The river was one of the two that supposedly girded the world. She knelt in the icy surf and thrust her hand beneath the water. She felt the souls of the drowned dead stir and her call, and heard the crunch of ancient oars and the sound of water flowing about a cracked hull. A moment later, the water-logged hulk of a long sunken boat breached the waters, its dragon prow shrouded in weeds and barnacles.
It thudded onto the shore, driven to answer her call by fish-picked bones of its crew. Dead men, clad in rusty hauberks, their eyes empty of all life, clambered down to the rocky shore and knelt before her. She studied them for a moment, and then looked past them, towards the horizon where the underworld gave way to tot her worlds, other realms. 
Persephone smiled.
Hades sat on his throne and contemplated the scrying crystal before him. The crystal rose from the broken tiles of his throne room, suspended in a web of thick roots and creeper vines, and its milky facets shone with a cold light. He gestured, and the cloudiness of the facets cleared, revealing frenzied images.
He watched sombrely as Cerberus was caught up in a swirling vortex of water, and cast into the depths of the Styx. He watched as the armies of the dead were smashed aside by the invaders. The reverberations of that battle caused his throne room to shudder slightly, and he looked up.
Once, his throne room had been little more than emptiness and shadows. Now, the great pillars were wreathed in vines and creepers, and eerily shimmering blossoms grew among the ancient stones and fallen statues. Everywhere in the halls of the dead, there was life. A strange life to be sure, but life nonetheless.
Even his great seat of onyx and gold had been replaced with a humbler chair. And beside it on its dais of stone sat a similar chair – that of his queen. Another paroxysm gripped the chamber. They were getting closer. Olorun desired a confrontation – something public. Hades understood and sympathized, to some extent. In better times, he might have joined his might to that of the new king of Olympus. From what little he'd seen, Olorun was a worthier ruler than Zeus had ever been.
But these were not better times. And he did not have the luxury of choosing sides.
He dismissed the scrying crystal, and the roots contracted, drawing it back into the earth. He stood and extended his hand. The ground cracked and his staff rose on a gust of volcanic air. He caught it, and felt the hum of its power. Once, he'd thought to make himself a master of gods and men. He had been more foolish in those days, but his experiences taught him a valuable lesson – the gods were no more destined to rule than men, they simply had more power. And if Persephone succeeded, soon they would not even have that.
He stepped down from the dais, and started towards the door. Around him, the vines trembled slightly, their blossoms swaying and drooping in parody of bowing courtiers. They were Persephone's creations, and unpredictable. He couldn't have controlled them, even if he'd wanted to. Hopefully, Olorun would see sense. If not...
The creepers rustled softly, and it reminded him of a serpent's hiss.
--
Olorun and the others followed a road of skulls to Hades' throne room. The road was a wide processional, passing among a shadowed valley of jagged stones and thick swathes of wild greenery. Vines hung down like living curtains, and blossom-bedecked creepers coiled about every stone and fallen statue. Those yet to be judged waited here for their turn before the lord of the underworld, and their spirits broke apart and reformed like mist around the gods. They clutched at Olorun, murmuring, whispering, pleading. It was all he could do to forge on, and leave them to their fate.
Argus ranged ahead of the group, smashing aside any denizen of the underworld foolish enough to try and stop them, but his mistress hung back, keeping pace with Olorun. Hera looked wan and drawn – exhausted by her efforts, but her back was straight and her head held high. Tired or no, she was still the Queen of Olympus. She glanced at him. "He will not surrender her without a fight."
"It is not her I am interested in," Olorun replied. Though the injuries he'd sustained battling Cerberus had been healed by Yemoja's magics, he still felt drained – as if the light of the heavens could not pierce the darkness of the underworld. He wondered if that had been Persephone's plan all along. Had she thrown down her challenge knowing that this realm would leech his strength from him? If so, she was more dangerous than he'd thought.
"She will not surrender them without a fight," Hera clarified. "She is stubborn, that one. Worse than her mother."
"Speaks the pot in regards to the kettle," Baron Samedi said, from behind them.
Hera glared at him. "I do not recall asking your opinion, Baron."
"And yet I give it freely. For I am a generous god – and wise." He leaned forward, his hat tilted rakishly. A cigar was caught fast between his teeth, the tip smouldering with cold fire. Of them all, the Baron seemed less affected by their surroundings. "Which is why I say again that going to the throne room might not be the best course of action." He looked down and tapped a skull with his cane. "Especially by this path."
"I too sense something," Horus called down as he swooped overhead. "It is as if the air itself is alive with anticipation." The young prince sounded as ragged as Olorun felt, and did not fly with as much vigour as he might have.
"This realm is hungry," Yemoja said. "It aches like a thing alive, yearning for something it cannot name." She gestured and globules of water danced upon her palm. "Even the rivers here stink of its desperation."
Olorun paused and looked at them. "If you wish to return to the surface, I will not stop you. I understand your unease, for I feel the weight of this ancient darkness as much as any of you. But I must go on. My course is set, for better or worse."
"I am not leaving without my husband," Hera said. She looked challengingly at the others. Horus and the Baron glanced at one another.
Horus struck the ground with the ferrule of his spear. "I swore an oath. I will not break it now." Baron Samedi nodded.
"And I am looking forward to seeing how this turns out."
Olorun looked at Yemoja. "And you, Yemoja?"
"You would only get yourself into trouble if I abandoned you now," she said. Her eyes narrowed and she pointed. "Besides, I do not think that leaving is an option – look."
Olorun saw the path behind them beginning to twist and squirm like a wounded serpent. It was as if something were pressing up from beneath the layer of skulls. Or perhaps pushing its way through.
Argus roared, and Olorun whirled around to see Hera's bodyguard staggering back as coiling, fibrous shapes rose from within the skulls. Thorny vines, sweating iridescent pollen, lashed upwards. Large blossoms spread open like the hoods of cobras, revealing skull-like extremities. Thick clouds of pollen roiled through the air, and Olorun's skin crawled at the sight of it – he could taste the poison, even from a distance. "Yemoja – the pollen. Wash it away, quickly!"
Yemoja stepped forward, raising her hands as she did so. She drew water from the air with a sinuous gesture and sent it flooding past Argus in a crashing riptide. But even as she drowned the plants ahead of them, the ones behind them uprooted themselves and began to scrabble towards the gods on thorn-like appendages. Horus and Baron Samedi moved to face them. Olorun felt the ground shift beneath his feet and grimaced.
Hera lifted her sceptre. "Another trap."
"If so, we will not be caught like last time." Light blazed from Olorun's fists as he thrust them into the convulsing skulls. Solar heat thrummed through the soil, seeking out the predatory seedlings Persephone had planted and incinerating them even as they sprouted. Columns of coruscating flame erupted from the ground, consuming the skull-faced creepers as they advanced towards the gods.
Olorun rose, eyes blazing. "No more obstacles. No more delays. Where is Hades?"
Hera swept ash from the air and pointed. "The entrance to the throne room is up ahead, if I recall correctly."
Olorun turned. The path rose steeply, terminating in a wide plateau. A set of great double doors, made from onyx and covered in strange carving, had been set into the rock.
As they watched, the doors swung slowly open, as if in invitation.
Hades awaited them in the throne room. Olorun blazed like the sun itself, and the lord of the underworld winced and turned away as the new king of Olympus entered, followed by Hera and the other gods. "Hades," he said, in a voice like the rumble of distant thunder.
"Olorun." Hades smiled thinly as Hera appeared. His sister looked as if she wanted nothing more than to rip his spine out and beat him to death with it. "Sister," he greeted, as he drew back his hood and banished the shadow that normally masked his face.
"Where is my husband, Hades?" Hera said, her voice low and deceptively soft. "Where is your wife? She cannot hide from us, no matter how deep she secretes herself into the earth." As she spoke, Persephone's flowers rattled their thorns. They sensed her anger, and reacted accordingly.
"Softly, sister," Hades said. "They will attack, if they think I am in danger."
"It is not like you to hide behind plants," Hera said.
"It is not like you to bend knee to another." Hades turned to Olorun. "If you wished to visit, you could simply have asked."
"Where is she, Hades?" Olorun asked.
"Somewhere you will not find her." Hades raised his staff. "And at any rate, you did not come for her." He struck the ground with his staff. In moments, the floor swirled like a whirlpool of earth and stone. There came a great grinding sound, and a set of stone steps, curving downward, was revealed.
Hera took a step towards the steps, but Olorun stopped her. "You will not hinder us?" he asked. Hades shook his head.
"Not today. What you seek is below. Come. I will lead you." He started down the steps. Olorun and the others follow, after only a moment's hesitation.
"Why?" Olorun asked, as they descended. Hades did not look at him. Olorun's light cast strange shadows on the roughhewn walls.
"Because she asked it of me."
"She wished us to find this place?"
"That is not for me to say. She merely said that if you got this far, I was guide you to Zeus and the others."
"Another trap," Horus said.
"Possibly," Olorun replied, frowning. "But what kind?"
Hades glanced at him. "If you fear a trap, why continue to seek them out? Even if it means rescuing one who will not look kindly upon your choice of throne?"
"Be silent, brother," Hera said. "Zeus will understand."
Hades laughed. "You think death has changed him that much?"
"Except they are not dead, are they?" Baron Samedi spoke up. "Else how would Anubis have returned?"
"Perhaps," Hades said. In truth, he wasn't certain how Anubis' soul had slipped from the underworld. Maybe gods of the dead were beholden to different rules. It didn't matter, so long as the others were bound fast and unable to free themselves.
"What is death to a god?" Horus murmured.
"Ask Osiris," Hades said, and laughed. Horus growled and started towards him, but Baron Samedi held him back.
"He's baiting you, Prince Horus."
"He's baiting us all," Olorun said. "Isn't that right, Hades? You are trying to make us angry. Do you think we will make a mistake?"
"I think you made one the moment you descended uninvited into my realm." Hades stopped and turned. He looked up at them. "So arrogant. So full of righteousness. She was right about you – about all of us. We do not think, we simply do. We never question our desires, we simply pursue them." He turned away. "I am as guilty of that as any."
"More, perhaps," Hera said.
Hades ignored her. They'd reached the bottom of the steps, where a great cavern awaited. Humid air wafted up to greet them, and plants rustled softly. The cavern was larger than the throne room, and greener by far. It resembled a jungle full of plants and hanging vines. A garden left to grow wild. Skulls littered the floor, and hung from the vines above.
As they entered the chamber, the plants began to stir. Questing fronts stretched towards the gods, as creepers twisted line inquisitive serpents. Hades pressed forward, heedless of the plants that squirmed about him. They enfolded him gently, as the skulls began to sprout. Thorns clashed, and the air swum with toxic pollen.
"Hades – wait," Olorun began.
"I cannot control Persephone's creations," Hades called out. "I'm afraid that you must deal with them yourself."
Yemoja did not wait for Olorun to speak. She scraped water from the air and let it dance between her palms, shaping it into a perfect bubble. As the first of the skull-topped plants reached them, she cast the bubble towards it. The bubble enveloped it, but only for a moment. It erupted into a flurry of smaller bubbles that each exploded with the force of a raging river. Plants fell, torn asunder. But more pressed forward. Persephone had spent much time seeding this cavern. Their roots ran deep, and they were aggressive.
Yemoja felt some small sympathy for them, even as her waters uprooted them and cast them aside. They had not asked for this. They were doing only as the one who'd planted them had intended. But they stunk of rot, and unnatural sustenance. The underworld was not a fit place to make life. It was a place of taking, rather than giving. Persephone should have known better. Maybe she had.
From what little she knew of the Queen of the Underworld, Yemoja thought that she saw the mortals not as servant or slaved or pets, but as blossoms to be tended. She sought to encourage their growth and tend their hurts. Yemoja was of a similar mind. But Persephone was going about it the wrong way. And she had to be stopped.
Thorny creepers sought to snare her, and she heard Horus cry out as he was nearly dragged from the air. Nearby, Argus roared as he uprooted plants by the fistful, as creepers sought to envelop him. Hera bulled forward, her mystic shield flickering with every impact from a lashing root or branch. Olorun and Baron Samedi followed, solar light and cold fire blazing a path through the cavern-jungle. But for every step they took, the plants surged back, closing in around them.
Under better circumstances, Olorun might have been able to dispatch them. But he was exhausted. They all were. As Yemoja watched, creeper vines slithered about his forearms and neck. He roared in fury, but as quickly as he managed to free an arm, it was ensnared once more. Clouds of poisonous pollen hung thick on the air, and Yemoja could taste it burning at the back of her throat. The underworld only took, it could not give. And soon it might take them, unless something was done.
A creeper snared her throat, and she staggered. As she tried to tear it loose, Horus' spear flashed down, severing the tendril. "Can you not summon another flood to cleanse this cavern, my lady?" he asked, helping her to her feet.
She shook her head. "We are too far from the river. But there are other ways. Stand back." She flung her hand up, and her soul went with it, riding upwards at the speed of thought. Past the rocky roof of the underworld, past the soil and grass, past the tree tops, into the sky above. The sun had set, and the moon hung against the black canvas of the night sky. The sun was Olorun's, and the stars as well, for what were stars but distant suns?
But the moon belonged to Yemoja. And it answered her call without hesitation.
The roof of the cavern cracked and split as streams of pure moonlight poured through, merging into a silver torrent that cascaded down into the centre of the cavern and spilled outwards. Plants writhed and shriveled in the gleaming light. Those not destroyed shrunk back, seeking refuge from the painful radiance.
As the moonlight faded, what the plants had been protecting was revealed. Five stone pillars, wreathed in sickly black creepers and swollen blossoms the colour of blood. From amid these creepers, the withered faced of five dead gods stared blankly at their surroundings. Zeus hung at the centre, with Chaac, Anhur, Mercury and Ao Kuang hanging to either side of him. Yemoja could feel their pain from where she stood – caught between life and death, unable to return to one or pass to the other.
"What has she done to them?" Hera said, her voice echoing in the sudden silence. Hades, standing beneath Zeus' pillar, looked at her.
"What she thought best. The black vines feed on them, draining them of vitality. They will not die, and so the vines will never loosen their hold. And the red flowers will bloom forever, at the heart of Persephone's garden."
"Damn the flowers and damn her!" Hera snarled. "Argus – free my husband!" At her command, Argus lurched forward, reaching for Zeus. Horus swept forward to join him, spear flashing to slice through the vines holding the other gods.
Yemoja...please," Hera said, as Argus lowered Zeus' shrunken, withered form to the ground. Yemoja nodded.
"I will do what I can. Bring the others."
One by one, the imprisoned gods were freed and laid on the ground before her. She could feel the spark of life still flickering in each. Gods did not die easy. She placed her hands upon the ground, seeking the water. Great rivers thundered forgotten through the depths of the underworld. They responded to her thoughts like skittish horses, uncertain and untamed. "Come to me," she murmured. "Come."
For long moments, there was only silence. Then, the cavern shuddered. Water spouted from the cracks in the floor, spurting upwards. They coiled about her, following her gestures. With a sharp motion, she sent them washing across the fallen gods. As their forms were inundated, they began to swell with new life. Muscles filled with strength, eyes fluttered. One by one, each god took a deep breath.
Yemoja sat back on her heels, panting slightly from her efforts. Olorun set a hand on her shoulder. She looked up at him. "They will live."
"Good." He looked at Hades. "Where is she, Hades? Your wife must answer for her crime. I promise you, she will be judged fairly."
Hades shook his head. "I thought you would have realized by now.. she is not here. She departed not long after you arrived."
Olorun frowned. "Departed – where?"
Hades smiled sadly.
"You will see soon enough, I fear."
Trees sang a song of welcome as Persephone passed beneath their gnarled boughs. The forests of Vanaheimr knew her of old, for she had wandered among them in more innocent times. She let her fingers caress their knotted trunks as she passed among them, and their song grew fierce as they sensed her reason for being there. They knew why she had come, and they approved.
"Show me the way, my friends," she murmured. Branches swayed and bent, shedding snow and leaves as they indicated the direction she should take. She smiled. "Thank you." She glanced over her shoulder at her escort. Dead men, dredged from the bottom of a forgotten ocean. They had carried her here, by the secret rivers known only to the gods of the underworlds. Now they stared at her with hollow sockets, their flesh sloughing from water-logged bones. She felt a flicker of pity for them, even as she led them deeper into the forests. They deserved better. But there was one more service she required of them before she sent them to their rest.
In the distance, Yggdrasil rose into the clouds. It was impossible to perceive the whole tree, vast as it was. But she did not need the whole tree. Just a part of it.
She could feel the great tree's life-song pulsing through the air, even from where she stood. It was…intoxicating. Unlike any plant she had ever communed with. She looked down at her hands, wondering, not for the first time, if she had the strength to do what must be done.
Yggdrasil was not like her plants in the underworld. It was as much a force of nature as she was – the cosmic spoke around which all life turned. To attempt to manipulate the ancient power running through it would have been folly for anyone else. Even for her, it was a risk. But it was a risk worth taking.
She needed only to touch its trunk to enact her grand design. She was not simply the Queen of the Underworld, but also the goddess of green growing things. Everything that sprang from the soil was hers to command. Even a tree as old and as mighty as Yggdrasil. She had but to place her hands upon it to bring it under her control.
Vanaheimr was the best place to do that. Asgard was in upheaval, and dangerous. Niflheim equally so, for different reasons. But Vanaheimr was silent. It was a place of spirits, who dwelt in mounds and in hills and water. They would not seek to hinder her, even if they had possessed the capacity to do so. She had no doubt that they would sympathize with her quest – the gods of Asgard had often imposed their will on Vanaheimr and its inhabitants.
"But no more," she said, out loud. The time of the gods was coming to a well-deserved end. The world was going to change.
Whether it liked it or not.
Ratatoskr scampered to the edge of the branch and gesticulated excitedly. "There she is! See her?" He turned to the god who followed him. "Down there! There – there – there!"
"Be silent, rodent."
"She can't hear me all the way up here," Ratatoskr chittered defensively.
"No," Heimdallr said, flatly. "But I can, and your shrill cries pierce my skull to the marrow. Now be silent, or I will toss you off." He crouched on the branch, easily maintaining his balance in the high winds that whipped through Yggdrasill's heights. Even from so great a distance, his gaze could easily discern the goddess and her entourage.
When Ratatoskr had come to inform him that a strange goddess had come to Vanaheimr, he had not expected her. Bellona, perhaps, or even Hera – but not Persephone. Why was the Queen of the Underworld here, and without announcing herself? That boded ill. Heimdallr was not one to ignore his instincts, and right now they were telling him that something was amiss. That there was danger, not just to Vanaheimr but to all the nine worlds. Perhaps even to Yggdrasill itself. There was only one way to know for certain.
But even as he readied himself to leap down, Persephone stopped in a shallow clearing. Her followers stopped as well. Dead men, each and every one of them. At her gesture, the corpses reached up and tore their own heads off, dropping them to the ground at her feet. The broken bodies collapsed and lay still. Persephone raised her hands and sang a single note. The ground thrummed and gnarled roots emerged to ensnare the fallen skulls and drag them beneath the soil.
Thanks to his keen senses, Heimdallr heard the sound of bone splintering and roots shifting. The ground began to writhe, as something moved beneath it and an eerie radiance danced across the grass. Persephone stepped back, a satisfied look on her face. A chill ran through him as he realised what he was seeing. She was calling up an army.
His hand found the haft of the Gjallarhorn, and he considered sounding it. But he hesitated. Asgard was weak – battered almost beyond endurance by recent events. To call it to battle once more might well mean its destruction, and that he would not – could not – allow.
But Vanaheimr too had seen much war over the centuries. Thousands had died in these forests, their broken bones tangled in the roots of the great trees. If she were to draw them all up, there might be no force capable of standing against her. Unless someone stopped her before she completed whatever dark rite she had begun.
"Who is she?" Ratatoskr chittered, bushy tail twitching.
"Someone who should not be here." Decision made, Heimdallr stood and leapt, falling towards the forest far below like a meteor of iron and intent. He crashed to the ground in a cascade of broken branches and fluttering leaves. He was up and moving moments later, following the scent of grave-dust and the rattle of bones.
The clearing was already full of skeletal warriors when he reached it. They sprouted like spring flowers, their bones held together by a twine of roots and vines. Ten had become twenty, and twenty had grown into forty. A small army, but an army nonetheless.
Heimdallr took a running leap. He threw his axe as he plummeted into the clearing. It flew from his hand in a whirling, silvery arc and dead men shattered beneath its double-headed bite. It arced back towards his waiting hand as the others swarmed towards him. He plunged to meet them, fighting with calculated ferocity, never slowing, letting his axe carry him across the clearing. Broken bones were ground beneath his feet as he stamped and spun.
He sent his axe whirling into the tide of fleshless warriors and drew his blade. He slammed the longsword through a pair of skeletons and pinned them to a nearby tree. He turned as bony feet scraped against the ground. The dead had continued to sprout, even as he'd destroyed them. A losing battle, unless he could clear the field.
Moments later, the Gjallarhorn was in his hand. As skeletal hands groped for him, he set it to his lips and blew a single, devastating note. A marrow-curdling reverberation gripped the clearing, shaking the trees to their roots and casting back the undead horde. A rain of bone splinters fell across the clearing as the dead men were flung in all directions and smashed apart against the trees, the ground or each other.
Heimdallr lowered his horn, panting slightly. Dust streaked the air. Nothing moved.
Then, a laugh. He turned.
"Very impressive, watchman," Persephone said, as she picked her way gracefully over the remains of her army. "But there are more where they came from. Many more."
"Then I will destroy them as well." Heimdallr wrenched his sword free of the tree and extended it towards her. "You will go no farther, Queen of the Underworld. Whatever your purpose, it will remain unfulfilled…this I promise you."
"My purpose?" Persephone laughed again. "You could not conceive of my purpose, watchman." Her eyes strayed past him, and he turned. Yggdrasill rose into the sky, its branches stretching to the limits of the horizon. A sudden realization pierced him.
"Yggdrasill," he murmured, turning back to her. Her eyes narrowed, and he knew his guess was correct. "Go back, Persephone. The World Tree is under my protection."
"This is not Asgard, watchman," Persephone said. "You overstep your authority."
"If you endanger Yggdrasill, you endanger Asgard." Heimdallr took a step towards her, sword at the ready. Persephone did not retreat. Heimdallr stopped, his instincts screaming a warning. He leapt back, even as the first skull burst through the loose soil of the forest floor. More of them rose, bobbing on pulpy stems. The air swam with pollen.
Persephone smiled. "And what do you imagine that you can do about it?"
The watchman of Asgard moved like lightning. His blade was arcing towards her head even as she taunted him. She twisted aside, avoiding the deadly strike. The blade split a rising skull-blossom. Heimdallr spun, cleaving apart another of the newly-sprouted plants.
More and more of them rose from the ground as Persephone backed away. They would keep Heimdallr occupied, but not for long. She turned and sprinted towards the distant shape of Yggdrasill. As she ran, she flooded the ground around her with life-giving energies, causing it to rupture and hurl her forward in leaps and bounds. Plants sprouted in her wake, tangling about one another and forming a living barrier between she and Heimdallr.
Yggdrasill grew large as she drew near, filling her vision. She was so close. She could feel its power, and knew that it could feel hers in turn. In one hand, she held the last broken remnants of her escorts. She would plant them into the very heart of Yggdrasill. They would sprout and spread within its trunk, bending the great tree to her will, root and branch.
A burst of rainbow light flared before her, nearly blinding her. Heimdallr erupted from within the coruscating shard of Bifrost, sword raised. He roared in fury, and she was forced to retreat before his attack. "Get out of my way," she snarled, ducking away from a blow that might have split her skull. She slapped her palm against the sword as Heimdallr slashed at her again, knocking it aside. As she drew her hand back, she felt a sting of pain and saw that she was bleeding. She realized that she'd dropped the skull-shards. They were wriggling into the soil all about her.
Heimdallr stalked towards her. "Retreat, Queen of the Underworld. You will not win this day. Stay, and I will send you back to your realm in pieces."
"A boast fit for a barbarian," she said, clutching her hand. Motes of jade light sparkled in her wound as it closed. "But you are one, and I am many. The dead of Vanaheimr remember the Aesir of old, Heimdallr. And those memories are not fond ones." She could feel the dead stirring all about them, responding to her presence.
They erupted from the ground all around him, clawing at his arms and legs. He wrestled his sword-arm free and hurled his blade into the air. As it fell, light radiated from the weapon, growing in brilliance until it was all but blinding. Persephone was forced to shield her eyes as the blade plunged into the ground, releasing a shockwave of shimmering energies.
When the light cleared, Heimdallr's attackers were dust, and he was reaching for the hilt of his blade. Persephone darted forward and caught up the sword before he could touch it. She slashed at him, driving him back. He gestured, and his axe shimmered into view. He met her, axe to sword, and they circled one another, trading blows.
If he was surprised that she knew how to use a blade, he didn't show it. Instead, he redoubled his efforts, matching her speed, and then surpassing it. His axe spun like quicksilver in his grip, almost too fast for her to follow. Moments later, the sword was sent spinning from her grip to embed itself in a tree.
As she backed away, she saw that her skull-seedlings were beginning to sprout. Heimdallr hadn't noticed them yet, but he would. There was still a chance, however. She thrust her hands forward, calling up the roots of the trees that surrounded them. They rose from the broken ground like serpents and shot towards Heimdallr from all sides. He chopped the first few apart, but there were too many of them. He was dragged to one knee, bellowing in fury. They slithered about his arms, neck and chest, pinning him in place.
Persephone braced herself, matching her strength against his. The more he struggled, the more roots and vines she wrapped about him, binding him, holding him trapped. Holding his attentions on her, as her newly sprouted seedlings crept towards Yggdrasill. "Struggle all you like, watchman," she said, through gritted teeth. "The more you fight, the more tightly you are bound."
Heimdallr glared at her. He was gathering himself, straining against her bindings. Soon enough, he would break free. She called up more roots, all but entombing him in plant-life. She could feel her seedlings drawing closer to Yggdrasill, its power acting as a beacon to them. A few more moments, and it would be done…just a few more moments…
There was a sound like splintering wood. Heimdallr burst free of the entangling roots, just for an instant, a look of determination on his face. He lunged, axe low. Time seemed to grind to a halt as he swung it towards her. She could see the coruscating energies building within the ancient weapon as it drew closer. The light within it became a blazing crescendo. She felt hot and cold all at once, and the world crumbled about her as the blow connected with a thunderous boom and she was propelled from one realm into the next, a scream of frustration on her lips.
Heimdallr staggered as the roots loosened their hold and collapsed, one by one. The glare of Bifrost's light faded, as Persephone was hurled from Vanaheimr. He could not say where she would end up. Muspelheim, or perhaps Niflheim, if she was unlucky. He didn't care so long as it was far away. He retrieved his sword and turned, hunting for the seedlings he'd noticed earlier, despite Persephone's attempt to distract him. The last he'd seen of them they'd been heading for Yggdrasill.
He spotted them easily. Persephone's plants were dangerous, but not subtle. They blundered towards Yggdrasill with all the stealth of a drunken jotun. He raced after them, moving as swiftly as his aching limbs would allow. It had taken almost all of his remaining strength to tear himself loose of Persephone's roots, and fatigue clawed at the edges of his perceptions. Had luck been on her side, she might have had him. But he was free now and he could not allow the seedlings to reach the World Tree, even if he didn't know why. If he failed to stop them all, there was no telling what catastrophe might result.
The first two fell easily. The third put up more of a fight, and he was panting by the time it ceased thrashing. The fourth one he pursued to the very trunk of Yggdrasill itself, leaping upon it and impaling it with his blade, even as it rounded on him. It squirmed under him, skeletal jaws snapping in mindless fury, before he crushed its skull beneath his boot.
The fifth was cleverer. It had used his distraction with its fellows to reach Yggdrasill. Thorny, scabrous roots dug into the bark of the great ash tree, releasing gouts of steaming sap as the seedling began to burrow in.
Heimdallr cursed and slashed at the predatory plant with his sword. It shrieked and writhed, attempting to avoid his blade. It spat toxic pollen, nearly blinding him. Through a veil of tears, he saw the seedling tear at the bark, forcing more of itself into the tree. Roaring in fury, he drove his sword into its skull, silencing its shrieks. Then, using his hands, he began to tear at the squirming remnants, wrenching them from Yggdrasill. It took every ounce of his remaining strength to do so. Even injured, the seedling fought with all the strength of the damned.
Finally, he stepped back, blood and sap staining his limbs, and the remnants of the last seedling twitching in his hands. He squeezed the fragments to pulp and let them fall to the ground as he studied the cracked, weeping wound they had made in the bark. He could only hope that he had gotten every bit of the seedling.
Yggdrasill had been injured. But it had been injured before, and had recovered. It would do so this time as well. He pressed a bloody hand the trunk of the ancient tree, feeling the pulse of its life – the heartbeat of the world. If it ever faltered, even for a moment...
Heimdallr let his hand fall and turned away.
There were some dooms too awful to contemplate…