Odyssey 2015 is part of a series of annual events in SMITE to celebrate the World Championships. The original edition of the event began with SMITE Version 1.0.2268.2, the patch released on August 19, 2014 and ended on January 9, 2015. The Odyssey was an event used to promote the SMITE World Championship 2015.
Over the course of several months, Hi-Rez released a new Cosmetic item each week, up to the World Championships in Atlanta on January 9, 2015. Every Odyssey item purchased contributed $1 per 200 gems towards the Championship prize pool. Players could also obtain limited Odyssey rewards by unlocking certain numbers of Odyssey items. These limited items were only available in this event. Additionally, every item purchase would grant a free Odyssey Treasure Chest.
Items collections
[
]
These are the items that were added over the course of the event, each one came with a small bit of lore. These items could only be directly purchased during this event and have since been removed from the store.
Collection Rewards
[
]
These are the exclusive rewards that could be earned by unlocking certain number of Odyssey items.
For the final reward for the Odyssey, the SMITE community submitted ideas and voted on a custom cosmetic skin for Thanatos, the Greek Hand of Death. The 'angelic' theme won and was be the final exclusive bonus item of the Odyssey. The skin is progressive and changes and evolves throughout the course of the match, beginning with the first stage (far left), and moving toward the final stage (far right) as the player levels up.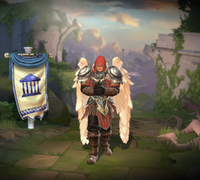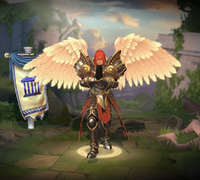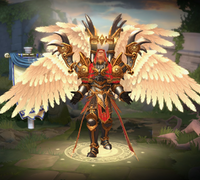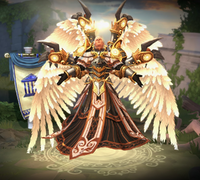 Videos
[
]
FAQ
[
]
For more information about the event please check the official Smite website: The SMITE Odyssey - FAQ
Additional information can be found here: Farewell Odyssey FAQ