5.25 - Vapor Wave | January 22, 2019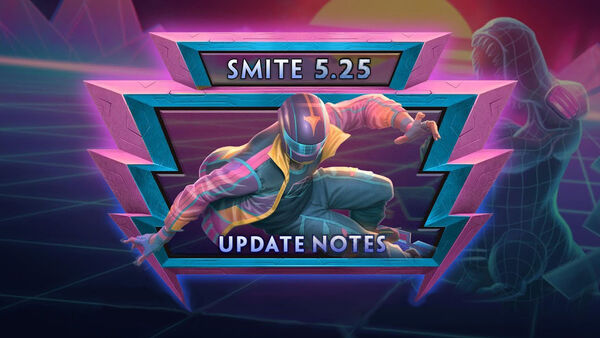 New Voice Packs
Misc.
New Cosmetic Items
Synthwave Music Theme
Grid Tech Level Up skin
Fantasy Points Store
New additions to the Fantasy Points Store
Skaliwag Kali
SPF 666 The Morrigan
Jandroid Janus
Bug Fixes
Fixed a client crash condition with Arthur's Ultimate.
Platform exclusive skins have been reactivated.
Fixed Titles that were gained through Gifting Achievements not appearing in game.
[Console] Fixed viewing a friends profile not loading if you are on your own profile.
[Console] Fixed Achievement pop ups showing blank.
[Console] Fixed spectate option no longer appearing on friends list.
[Console] Fixed 'Kick' and 'Promote to Leader' buttons showing in the friends list when user is not in a party.
SMITE on Nintendo Switch
SMITE is coming to the Nintendo Switch™ on January 24, 2019! Starting now, you can Pre-Purchase the SMITE Founder's Pack, which comes with all of the following:
Ultimate God Pack – Receive instant access to every God in the game, as well as unlocking every future God when they are released.
Dragon Empress Scylla – Summon the power of dragons as Dragon Empress Scylla! This skin is available only on Nintendo Switch™!
Dashing Deceiver Loki – Play as the Trickster God, Loki, in his fan-favorite skin, Dashing Deceiver.
400 Gems – Instantly unlock gems to start building your skin collection.
Exclusive, guaranteed access to the SMITE on Switch™ closed Beta – Coming January 24, 2019!
The SMITE Founder's Pack is available for Pre-Purchase for only $29.99! Pre-Purchase the SMITE Founder's Pack today and you'll also receive the Foxy Amaterasu skin, as well as an extra 200 Gems.