7.9 Odyssey: Reckoning | September 8, 2020
New Voice Packs
Update Release Schedule
August 25
God of the Moon Bonus Update – Get all the details on Balance and new content here.
September 8
Odyssey: Reckoning
Necropolis Battle Pass
Voyager's Log Event
September 22
Odyssey: Reckoning Bonus Update – More info here.
Battle Pass
Battle Pass: Necropolis (600 Gems)
Battle Pass: Necropolis Plus (1200 Gems)
Free Track Items
Sinister Sentinel Athena Skin
Infernal Father Avatar
Tsukuyomi Announcer Pack
Razor's Edge Avatar
The Scared Jump Stamp
Necromancer Player Title
NEW: Odyssey Points
Paid Track Items
Razor's Edge Isis Skin
Infernal Omen Tsukuyomi Skin
Infernal Father Odin Skin
Necropolis Loading Frame
Ghoulish Ward Skin
Razor's Edge Loading Screen
Necropolis Music Theme
Boneyard Recall Skin
Spirit World Level Up Skin
Infernal Omen Loading Screen
Lunar Disguise Global Emote
Pile of Bones Death Stamp
NEW: Odyssey Points
Odyssey: Reckoning
This season introduces a brand-new Odyssey, complete with new design changes that will awaken the explorer within you. On your journey, the gods will explore new cultures and unexplored lands, while battling the corruption of Cthulhu. Will you defeat the corruption…or will it overtake you?
Odyssey Purchasable Items:
All purchasable exclusive event items will be purchasable with Gems.
Each exclusive Odyssey: Reckoning Skin Costs 750 gems
For the 2 weeks after each Skin's initial launch, they will be discounted by 33% to 500 gems)
Odyssey Skins come with 1 bonus cosmetic item and 10,000 Odyssey Points.
Buy All the items in the entire Odyssey for 8,000 Gems on Day 1
Odyssey Reward System:
Earn Odyssey Points to unlock Collection Reward Items
Keep track of your progress on the Rewards Tab of the Odyssey Home Page
Odyssey Points can be earned by buying Odyssey Skins
NEW: Odyssey Points can now be earned by participating in the Battle pass and purchasing other items in the SMITE Store.
Buying these items during the 7.9, 7,10, and 7.11 updates will reward you with Odyssey Points:
Odyssey Skins: 10,000 Points
NEW Skins in Chests (whether rolled or directly purchased): 10,000 Odyssey Points
NEW Skins in Theme Bundles: 10,000 Odyssey Points
Digital Lootpack: 10,000 Odyssey Points
Battle Pass Premium Track: 5,000 Odyssey Points TOTAL
Level 6: 5,000 Odyssey Points
Battle Pass Free Track: 15,000 Odyssey Points TOTAL
Level 18: 5,000 Odyssey Points
Level 36: 5,000 Odyssey Points
Level 49: 5,000 Odyssey Points
Odyssey Reward Items:
Every 20,000 Odyssey Points earned will grant a Map Fragment. This still occurs at levels with Skin rewards.
Map Fragments can be used to unlock a Territory of your choice on the Odyssey Map.
Each Map Territory contains quests which unlock two Odyssey Bonus Chests and other bonus content
See the "Odyssey: Reckoning Event Gameplay" section for more details
Earn 40,000 Odyssey Points and unlock the exclusive Mysterious Warrior Mulan Skin.
Earn 80,000 Odyssey Points and unlock the exclusive Gecko Gladiator Xing Tian Skin.
Earn 120,000 Odyssey Points and unlock the exclusive Wild Shaman Cernunnos Skin.
Earn 160,000 Odyssey Points to unlock the unlimited T5 Hel Eclipse Summoner skin.
This can be achieved by buying all 16 Odyssey Skins
Or through accumulated points through any combination of the Odyssey Point items
For every 10,000 Odyssey Points you earn after 160,000 Odyssey Points you will receive an Odyssey Bonus Chest. (Maxes out at 350,000 points)
BUY ALL:
Items unlocked on initial release of 7.9 Update with Buy All purchase:
Unlimited Hel Eclipse Summoner Skin
Limited Eclipse Summoner Recall Skin
Limited Eclipse Summoner Jump Stamp
Exclusive Winged Death Thanatos Skin
Exclusive High Voltage Zeus Skin
Exclusive Mysterious Warrior Mulan Skin
Exclusive Gecko Gladiator Xing Tian Skin
Exclusive Draconic Jump Stamp
Limited Madness Loading Frame
Odyssey: Reckoning Event Gameplay
There is an Odyssey Map with 9 unique Territories.
Each territory will have its own quests and rewards.
Rewards range from: Odyssey Bonus Chests, Team Boosters, Favor, Viewer Points, Cosmetic Items, or Smite Gems.
You can see what items a territory rewards before you choose to unlock it.
Every player will start with the Niflheim Territory unlocked for free
Earn Map Fragments and use them to unlock a Territory of your choice on the Odyssey Map.
Once a Territory is unlocked, click on any Landmark to start a Voyage.
You can only have 1 Voyage going at any time.
Complete all the Quests in a Voyage to unlock the rare Landmark reward.
Corrupted Voyages have more difficult Quests but also reward epic items.
Completing all the Voyages in a Territory will reward an artifact unique to that Territory which will be proudly displayed in the background of your Odyssey: Reckoning page.
Odyssey: Reckoning Upcoming God Skins List (excluding initial Buy All skins):
Chaac Skin
Hera Skin
Medusa Skin
Ra Skin
Ares Skin
Ratatoskr Skin
Sol Skin
Jing Wei Skin
Hun Batz Skin
Poseidon Skin
Hercules Skin
Chernobog Skin
Athena Skin
Rama Skin
Cernunnos Skin
Quality of Life
Clarification: Intentionally disconnecting/exiting SMITE/etc to trigger Early Surrender Forgiveness is considered abuse of the system. We will be escalating punishments more aggressively, up to and including banning players caught doing so.
Mastery Icon for 110 gods mastered has been added
When merging accounts, some players kept multiple mastery icons, where others received their highest. From now on, all players should receive all icons.
Improved sorting for god skins in the match lobby.
Default skin should appear first, then currently selected skin.
Normal, Exclusive, and Limited skins will be sorted by release date (so new skins are easier to find)
Mastery skins will appear at the end
For ranked matches where a player is disconnected, we will now allow pausing while in combat.*
Cthulhu Arena has undergone an environment lighting update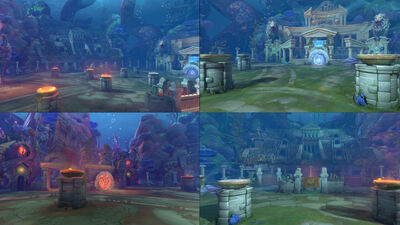 Bug Fixes
[PC] Re-addressing chat losing focus when receiving a new chat message
[PC] Fixed chest purchase issues due to slower connections
Fixed match lobby ability descriptions not displaying correctly on Cthulhu and Tsukuyomi
Fixed SPL standings showing incorrect data
Fixed Tsukuyomi getting interrupted during Ultimate dash
Fixed on instant cast, Tsukuyomi Silver Moon Caltrops going further than intended if camera is flicked.
Fixed an issue where Khepri resurrection could cause Tsukuyomi to move in unintended ways
Fixed Hera Divine Shroud not going on cooldown or costing mana if interrupted or damaged.
UI
Fixed an issue with Ranked Leaderboard showing wrong order of players and showing too many digits on MMR numbers
WIP Fixed an issue where Console players game could freeze when typing Custom Messages
General Gameplay
Fixed an issue where Fire Giant's attack chain would incorrectly reset when a combat target was dropped.
Fixed an issue where Gold Fury would not aggro you if afflicted by the Debuff from the Purple Camp.
Fixed an Issue where the Conquest Map lighting changes were different than intended when in Spectator Mode
Fixed an issue where Pyromancer's Infernal Ritual could not be interrupted by Silences
Fixed an issue where God bots and Buff Camps would sometimes not spawn in Jungle Practice
Fixed an issue where certain bots would spawn duplicates in Jungle Practice
Fixed several crash cases, including
a crash that could occur around the Mana camp
a crash that could occur in matches against AI.
Fixed an issue where Voice Packs weren't always unlocked in Jungle Practice
Fixed an issue where the "Happy Sun" Jump stamp was not appearing in game as intended
Avatar Aang Merlin and Avatar Korra Skadi
Fixed an issue where their Laughs, Taunts, and Jokes weren't playing
Fixed an issue where playing as Terra could crash games. This fix was not part of the hotfix but will go live before The Odyssey Update.
Fixed an issue where his Dragonfire deployable was not behaving consistently with his other deployables regarding Merlin dying while they are active.
Fixed an issue where Tsukuyomi could get stuck in walls
TBD – WIP – Tsuku teleports to unintended locations
Bound Gauntlet's description has been fixed and Mana has been removed
Voyager's Log Event
Each day during the Voyager's Log event there will be a different FREE reward unlocked by doing a simple quest.
Come back everyday and complete the simple "Play 1 Game" quest and the reward will be automatically granted to you.
This event will last for a total of 15 days
These rewards are only claimable on THAT day, if you miss a day you cannot go back and claim it.
Rewards:
The Maddening Loading Screen
Chibi Yemoja Avatar
Chibi Cthulhu Avatar
Chibi Khepri Avatar
Bubbles Jump Stamp
Sashimi Neko Jump Stamp
Rose Petals Jump Stamp
Chibi Thanatos Death Stamp
Balance Live With The Odyssey: Reckoning Update Sept 8
The new Jungle Abilities have been met with lots of positive feedback. One issue players were experiencing involved pulling the Speed buff to the desired location. This ability is going to activate later in the Centaur's hit chain, allowing players to pull it further before it attacks, and its hit area and timing are being adjusted to require more quick reflexes from Junglers.
Renamed this ability to Charged Thrust
The Centaur now uses Charged Thrust as its 4th attack
Decreased Range from 25 to 15
Decreased the ability wind-up time by 25%
This was a premier new item from Mid Season. As the 20% Penetration Assassin Item, we knew it would make a big impact, but it suffered from a few design problems. The passive felt too restrictive to certain gods, so we are changing the effect to be ramping instead of on or off. This shift allows for many more gods to use the item, but also is a significant buff, which the item doesn't really need. For this reason it's being paired with a few nerfs to the Cost, Power, and Power from the passive. This shift should change up the Jungle meta yet again, in addition to the big changes from Bonus Balance happening 2 weeks earlier.
Increased Cost 2550 to 2650
Decreased Physical Power from 30 to 25
Passive Adjusted
For every non-ultimate ability on cooldown you gain a stack of Cruelty. Each stack provides 10 Basic Attack Power and 3% Physical Lifesteal.
It seems that many players are still happy to be rid of reflect damage, but Nemean Lion isn't exactly having the intended effect. Currently this item is most popular as a single defense item on damage focused gods, causing certain hyper carries to have little counterplay. We are heavily changing the design on this item so that it requires protections to be built before the passive becomes effective. Buying this with too few item protections items will lead it to provide zero block stacks.
PASSIVE – For every 100 total Protections (Magical + Physical) from items only you gain one block stack, preventing the next Basic Attack from damaging you. This effect can stack up to 3 times.
Building up to Odysseus bow was not the best experience. It feels like its not really worth getting unless you have the complete gold for the finished Tier 3 item. The Tier 2 version, Charged Bow, is getting a scaling component added to it to make it an item worth building.
Bonus Damage now has 30% Basic Attack Power Scaling
The rework of Hecate's Ring brought about a lot of question about the similar Physical item: Ichaival. To help bring Hunters in line with Mage ADCs, we are buffing this item slightly so that the Buff and Debuff durations match Ring of Hecate.
Increased Buff and Debuff Duration from 3s to 5s
Adjusted Text on this item and Ring of Hecate to have better matching wording for the same effects
We have seen a decrease in play on traditional mages, especially in pro play. We are looking at a few items that feel a little underwhelming and buffing them to a spot where they are more likely to make it into a build. These changes also work to offset some of the nerfs that mages feel from Typhon's Fang changes in Bonus Balance.
Decreased Cost from 2600 to 2500
Added 7 HP5
Evolved Charon's Coin Buff
Increased HP5 from 28 to 35
Increased MP5 from 20 to 35
Doom Orb, more like Zoom Orb. This item is great for mages who want to rotate and make plays on the map, but its cost is quite restrictive. We are bringing this down so that Mid players have an option for early to mid game skirmishes.
Decreased from 3000 to 2850
Tanky Mages always have a risk to take over a meta, so we have been quite careful with the Warlock's Staff item tree. We are still not seeing this item being picked up very often, nor performing very well, so we are applying some more buffs to the item. The T2 is getting more power, so it becomes a more viable option to build into before the final staff, and the Tier 3 cost is coming down to make it easier to build in more situations.
Decreased Cost from 2650 to 2500
Increased Magical Power from 30 to 45
Below we have a slew of Tank item buffs, but one item is missing from our balance pass. The Sledge. While we are aware of this item's prevalence, Warriors are currently relying on it to keep up with the rest of the classes. Before we address it we want to make sure other choices feel strong and that options exist to round out builds.
Bulwark Of Hope has been a situational item as best for some time. A boost to its shield, especially with new anti-shield counters, should help it feel impactful.
Increased %HP Threshold where the shield triggers from 30% to 40%
Heartward Amulet should feel like a strong option for anyone to flex against Magical Damage, but it doesn't have that same impact as its closest analog, Sovereignty. Boosting its aura will help it succeed in the right situation.
Increased Magical Protections to allies in the Aura from 15 to 20
Pestilence and Contagion are commonly built on Warriors, but don't feel as strong as other Anti-heal options from other classes. They should not be as strong as pure defensive options and currently they fall too far below defensive choices. A boost to their Health will help in that regard.
Increased Health from 200 to 250
Increased Health from 100 to 150
Mystical Mail is a unique bruiser item. The longer a fight goes the more this item contributes, but the cost is too high for the strength it provides. This change will make it easier to build into and allow tanks to have extra gold to spend elsewhere.
Decreased Cost from 2450 to 2350
Vengeance never stops, never slows down. Especially after this balance update! Artemis lacks the escape options that other Hunters have access to, relying purely on her ult to survive. Vengeful Assault will now cleanse slows upon activation. This shakes up her favorable matchups and gives her an additional tool to play with.
Vengeful Assault
Additionally, Artemis now cleanses herself of slows and becomes immune to Slows for 0.6s when activated
Baba Yaga keeps brewing up some new balance adjustments. This time her concoction will reduce the cooldown on her Brew. Often Baba Yaga feels like she runs out of options too quickly, especially in the early game. Being able to brew more often will smooth out that experience.
Baba's Brew
Decreased Cooldown from 16/16/15/15/14s to 14s at all Ranks
Chaac makes it rain already, but he is about to bring down the Thunder as well. Chaac feels like a Jack of All Trades, master of none warrior. He brings sustain, control, pressure, but even for a Jack of All Trades his damage pressure feels lacking. Thunder Strike will gain some additional scaling to help him out.
Thunder Strike
Increased Physical Power Scaling from 60% to 70%
Chang'e is a squishy mage that plays in the position of a bruiser mage, often sitting close to her enemies for poke. She excels at dancing around a fight, but the lack of base tankiness limits her movement options. We are boosting her to be more in line with tankier mages but not quite as much as the likes of Hades and Zhong Kui.
General
Increased base HP from 375 to 410
Increased HP Scaling per level from 70 to 80
Geb rolls in and out of the meta and so far in Season 7 is seems to be mostly out. His lack of reliable clear and poke has caused him to fall out of favor. Shock Wave's falloff is being reduced to help our lovable rock out.
Shock Wave
Increased the damage dealt at max range from 50% of the initial damage to 70% of the initial damage.
Taolu Assault feels like it should be powerful on paper. While it does high damage and shreds, its short range takes heavy management to be used effectively, often falling short of easier and more reliable abilities. A base damage increase will make the effort feel more rewarded.
Taolu Assault
Increased Damage per tick from 15/25/35/45/55 to 20/30/40/50/60
It's like Hun Batz says, "It is not wise to put a basket on your head as you will be eaten by a dog!" No, we don't know what that means either. We do know that our previous nerfs to Fear No Evil which were meant to temper his teamfight power removed him from nearly all levels of play. A revert will help him out while giving us a chance to see how he performs in the more established Mid Season meta.
Fear No Evil
Decreased Cooldown from 120s at all ranks to 110/105/100/95/90s
Nemesis has sliced and diced her way to the top, becoming a strong pick in high level ranked and competitive play. We often see her excel and sink off small adjustments, with Slice and Dice having a history of a 10 damage change moving her performance around significantly. Rather than fully revert, a 5 damage adjustment may be just the right spot for this Assassin.
Slice and Dice
Decreased damage from 50/80/110/140/170 to 45/75/105/135/165.
The Allfather underwent a long series of nerfs after his rework. While they were deserved Odin has finally settled down and ended up a bit underwhelming. We discussed reverting one of his cooldowns, and the one that made sense was Gungnir's Might. Skilled Odins can show their understanding of the runes and we don't reintroduce the frustration surrounding his frequent Bird Bombs.
Gungnir's Might
Decreased Cooldown from 14s to 12s
The original god of the Sun struggles to shine at the top end of play. Ra requires strong setup and skill to connect his shots and lacks tools to help him get that done. Celestial Beam is being buffed to be more rewarding when it lands while Divine Light will now cleanse slows when used. Ra will have better success joining and surviving a hectic fight.
Celestial Beam
Increased Magical Power Scaling from 90% to 100%
Divine Light
Additionally, Ra now cleanses himself of slows and becomes immune to Slows for 0.6s when activated
Zeus is here to bring the lightning! Zeus' passive provides players an opportunity to eek out extra damage with his Basic Attacks, however his base Attack Speed made this exceedingly difficult to accomplish. Expect to see more lightning bolts go flying and just maybe we will see some extra variation in his build choices.
General
Increase Base Attack Speed from 0.87 to 0.95
Post PTS Balance Changes
Kusarigama
Decreased Swing Damage Scaling from 50% to 35%.
Decreased Final Damage Scaling from 80% to 70%.
Total scaling decreased from 180% to 140%
Decreased disarm duration from 1.6/1.7/1.8/1.9/2s to 1s at all ranks.
Decreased Movement Speed while channeling from 33% to 25%.
Tsukuyomi can now be knocked up during this ability.
Silver Moon Caltrops
Decreased scaling from 25% to 20%.
The follow up ranged attack now deals Physical Damage instead of True Damage.
Decreased Slow duration from 2.5s to 1.5s.
Piercing Moonlight
Decreased damage mitigation from 50% to 30%.
Decreased Beam Damage scaling from 20% to 15%.
Decreased Dash Damage scaling from 55% to 50%.
Decreased Total Scaling (All 4 Beams + All 4 Dashes) from 300% to 260%.